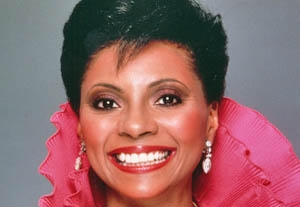 The first word that leaps to mind when thinking of Leslie Uggams is "joy." The lady infuses everything she sings with a glowing appreciation of life, and she's at the very top of her form in her new show "Uptown Downtown" at Café Carlyle. The show marks Uggams' first New York City boite gig in 18 years. I don't understand how we survived the drought.
Uggams offers up a cascade of refreshing song, stringing it all together with pithy anecdotes charting her career from uptown—she was born in Washington Heights and started singing at the Apollo—to her successes downtown on Broadway and in clubs, as well as touring and on screen. She's worked with everyone—Louis Armstrong, Dinah Washington, Ella Fitzgerald, even the Drifters—and it's clear she paid close attention along the way. 2010 marks her 60th year in show business, but her pipes are in better shape than ever, and she's in complete command of her craft.
Stunning in purple and flashing diamond earrings, Uggams begins by celebrating her Manhattan roots with an upbeat take on "There's a Boat That's Leaving Soon for New York" (George Gershwin–Ira Gershwin–Dubose Heyward), from "Porgy and Bess," combined with an infectious touch of "New York, New York" (Betty Comden–Adolph Green–Leonard Bernstein), from "On the Town." A saucy "Them There Eyes" (Maceo Pinkard–Doris Tauber–William Tracey) then gives way to a gorgeous rendition of her signature tune, "My Own Morning" (Betty Comden–Adolph Green–Jule Styne). It comes from "Hallelujah, Baby!," her Broadway debut, for which she won a Tony Award as best actress in a musical. She styles it a bit more for the Carlyle to Don Rebic's sensitive solo piano, but otherwise you could close your eyes and think you're back at the Martin Beck, where she introduced it.
In an evening full of them, other highlights include an intriguingly jazzy "Hello, Young Lovers" (Richard Rodgers–Oscar Hammerstein II) done to solo percussion accompaniment, a plangent "If He Walked Into My Life" (Jerry Herman), and a touchingly understated "Being Good," also from "Hallelujah, Baby!." We think of Uggams mostly as a belter, but she shows off an attractive head register in this last song, as well as in a beautiful "Summertime" (George Gershwin–Dubose Heyward). Perhaps her most arresting moment was a Drifters number, "Up on the Roof" (Gerry Goffin–Carole King), sung with riveting simplicity to solo guitar.
Uggams finishes the set by telling us that she is developing a new musical about Lena Horne and then tearing into "Stormy Weather" (Ted Koehler–Harold Arlen) and "Love" (Hugh Martin–Ralph Blane). It's clear that Uggams has the Horne style and mannerisms down. If she lacked the edge of Horne's famous anger, that was undoubtedly a choice. As she has demonstrated many times, Uggams is a fine actor. Indeed, if I had any regret while watching "Uptown Downtown," it's that she didn't include one song that spotlit her thesping talents. Perhaps it wouldn't have fit into such a musically focused evening. In any event, it's an unimportant cavil. And the role of Horne seems a natural. I can't wait to see her play it.
Director Michael Bush gives the show snap and sizzle, as does the piping-hot band—Aaron Heick on woodwinds, Steve Bargonetti on guitar, Ray Kilday on bass, Buddy Williams on drums—under Rebic's tight musical direction.
Near the end of the evening, Uggams soared on "I Got Plenty of Nothin' " (Gershwin-Gershwin-Heyward again). As she crowed the words "Got my song!" I could only think, Yes, she certainly has.
Presented by and at Café Carlyle, 33 E. 76th St., NYC. March 30–April 17. Tue.–Fri., 8:45 p.m.; Sat., 8:45 and 10:45 p.m. (212) 744-1600 or www.thecarlyle.com.