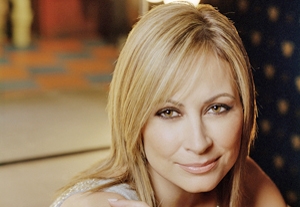 "I like different styles of music," says Linda Eder in between numbers during her new show, "All of Me," at Feinstein's at Loews Regency. But she doesn't adhere to her own stated preference for variety in this hourlong set. The majority of the 12 songs plus one encore are performed as soulful ballads, with only an occasional detour to uptempo tunes or comedy material.
Not that there's anything seriously wrong with that choice. Eder masterfully puts across her heartfelt songs, including "Someone Like You," her Act 1 curtain number from her one Broadway show, "Jekyll and Hyde," written by her husband at the time, Frank Wildhorn, and Leslie Bricusse. Some of her choices are actually ingenious, such as a slow rendition of the Beatles' "Help" (John Lennon–Paul McCartney), normally delivered at a peppy pace, and the theme from "Valley of the Dolls" (André Previn–Dory Previn), which Eder sings so beautifully to Billy Stein's solo piano that it banishes all thoughts of the campy schlockfest for which it was written. But after multiple creamy expressions of extreme emotion, sameness creeps in.
Eder opens the show with a silky rendition of "I Will Wait for You" (Michel Legrand–Norman Gimbel), followed by a faster arrangement of "Charade" (Henry Mancini–Johnny Mercer) featuring exciting solo bits for her five-piece band. She then informs the audience that the theme of the evening is music from movie soundtracks—a potentially rich area for a varied program. But most of the material falls in the pop ballad category. A brief, welcome change is provided by Eder's own composition "Nice Day for Flying," a comic riff on her fear of airplanes.
The singer receives lush musical support from musical director Stein on piano, Zev Katz on bass, Jerry Marotta on percussion, Peter Calo on acoustic guitar, and Allison Cornellruns, who displays her versatility on keyboard, violin, and background vocals.
Don't get me wrong. Eder can put across the slow stuff with the best of them. I just wish she would step outside of her comfort zone and jazz it up a bit more.
Presented by and at Feinstein's at Loews Regency, 540 Park Ave., NYC. April 6–17. Tue.–Thu., 8:30 p.m.; Fri. and Sat., 8 and 10:30 p.m. (212) 339-4095 or www.feinsteinsatloewsregency.com.