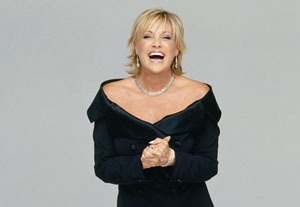 According to the show's press release, Lorna Luft scored a career triumph in Los Angeles with "Songs My Mother Taught Me." It quotes strongly favorable encomiums from Variety and the Los Angeles Times and tells us that the show won two Los Angeles Theatre Alliance Ovation awards. Unfortunately, this New York debut doesn't duplicate that triumph. I can only surmise that too many compromises have been made along the way.
"Songs" seems clearly designed for larger venues than the ballroom at Feinstein's at Loews Regency. Luft is backed by a swinging 10-piece orchestra—expertly led by musical director Colin Freeman (also Luft's husband) in his fine arrangements—that here tends to overwhelm the relatively intimate space and her. Forced to compete, Luft's too-often unmodulated singing comes across simply as loud, something even she commented upon at one point. The second problem is that the show's original running time of roughly two hours has been cut in half. "Songs" is as much about Luft's loving reminiscences of her mother, the iconic Judy Garland, as it is about the daughter singing her mother's songs. Luft is natural and winning sharing her story with us, but here it feels truncated and rushed. Though it sounds paradoxical, it's easy to imagine a longer show in a larger venue feeling decidedly more personal and intimate.
That's not to say that nothing works. Luft looks great in a black tailored ensemble of pants, sleeveless top, and fitted jacket, accented by diamonds, and she consistently draws us in emotionally in her stories. She's also wise to acknowledge up top that prior to this show she never sang any of her mother's songs because she was too scared of comparisons. This allows her renditions to resonate as tributes to her mother, short-circuiting the need to exceed Garland's definitive performances. Surprisingly, a high point is Luft's interpretation of "The Man That Got Away" (Harold Arlen–Ira Gershwin), probably her mother's most famous song after "Over the Rainbow" (Arlen–E.Y. Harburg). Luft, more ruminative and less intense than Garland, delivers a persuasive and strong take on the number. She also handles "Chicago" (Fred Fisher) with a belty sense of fun and suffuses "Through the Years" (Vincent Youmans–Edward Heyman) with loving warmth.
Luft really hits her stride in the show's climax. First, she sings most of Stephen Sondheim's "Children and Art" (the only stand-alone number she does that her mother never sang) to her young children about the grandmother they never had a chance to meet. It's an inspired choice, and Luft is particularly touching in her restrained interpretation. Then she switches gears and launches into an extended "Born in a Trunk" sequence (Leonard Gershe–Roger Edens, reworked by Ken and Mitzi Welch) that recounts her mother's professional journey from birth forward as a favorite story for Luft's kids. For the first time, Luft seems to genuinely relax. Her singing gains color, verve, and freedom, and she seems to be having a ball as she socks the bravura sequence over with showbiz flair.
The use of video clips featuring Garland, allowing Luft to sing some duets with her mother, is a nice idea that never quite succeeds, more distracting than enhancing in this room. It must also be difficult after 11 years of touring such a personal show to consistently summon the emotions necessary to make it fly, which might explain the sense of remoteness found in Luft's first few songs (though that could also be nerves). Nevertheless, as in her admirably clear-eyed autobiography, "Me and My Shadows" (and the fine TV film based on it she produced), Luft succeeds in "Songs My Mother Taught Me" in convincing us that her famously troubled family life was balanced by her mother's life-enhancing humor and deep love for her children.
Presented by and at Feinstein's at Loews Regency, 540 Park Ave., NYC. Jan. 4–9. Tue.–Sun., 8:30 p.m. (212) 339-4095 or www.feinsteinsattheregency.com.