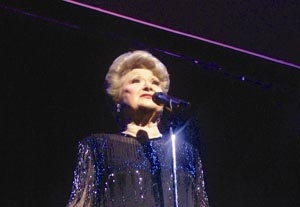 Cabaret icon Marilyn Maye has a slew of awards, a raft of raves, and a lifetime of singing behind her. She has created quite a critical stir since returning to performing in NYC in the mid-aughts after 15 years of toiling in the heartland, and so when she announced an all–Jerry Herman show for November at Feinstein's at Loews Regency, I decided it was time I acquainted myself with this phenomenon. Looking great and sounding remarkably robust in her mid-80s, she is the embodiment of high spirits and certainly knows how to flirt with an audience, especially one filled with as many fans and friends as this one was. Her sunny disposition would seem to be an ideal match for Herman's work, and clearly for most of the room it was. For me, however, her startling inability to connect with lyrics left me unable to join in the general enthusiasm.
Maye constantly skated across the surface of songs so lightly that she left nary a trace behind her. It didn't seem due to memory issues, though she had those aplenty, despite having lyrics in front of her on a stand. Her cheerful garbling of verses, indiscriminately mixing and matching lines from here and there while decimating Herman's careful construction and considered rhyme schemes, seemed borne out of disinterest. And yet there wasn't that much more discipline when it came to the music, with her phrasing often casual to the point of shapelessness.
There were enough tantalizing moments throughout that kept me hoping that somehow I would become a convert. Her "Before the Parade Passes By" was reasonably on the money, and she followed it with a nicely reflective, warmly burnished "Ribbons Down My Back" that also featured an attractive instrumental solo from musical director and pianist Tedd Firth. But soon Maye was singing "It Only Takes a Moment" so by rote that she sang the unfathomable line "and we'll recall when love runs out" in a song about finding enduring love on first sight. The correct line, of course, is "when time runs out," and the sentiments could not be more different. When, near her set's end, she gave a bright and chipper reading of "I Don't Want to Know," a fevered cry of denial from "Dear World," and then pronounced it a "simple, lovely tune," I more or less just threw the towel in, particularly as she followed it with a "Time Heals Everything" utterly devoid of heartbreak.
It's not much fun being the odd man out in a room full of happy campers. I wish I could have joined in the appreciative warmth with which the audience bathed Maye. Lord knows, she's earned her spurs, and I'm sure will continue to find acclaim and success. I wish her well, but in the words of another often-sunny lyricist, she's not for me.
Presented by and at Feinstein's at Loews Regency, 540 Park Ave., NYC. Nov. 1–12. Tue.–Thu., 8:30 p.m.; Fri. and Sat., 8 and 10:30 p.m. (212) 339-4095 or www.feinsteinsatloewsregency.com.