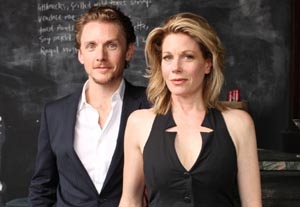 Married Broadway stars Marin Mazzie and Jason Danieley deliver a professional and polished set of standards in their joint show "He Said/She Said," but the structure and choice of material are somewhat routine.
The subtitle, "A Crazy, Cool Romance Examined in a Swinging Way," sounds promising, as do their opening numbers: a bouncy duet of Johnny Mercer's classic about the push-pull of romance "Something's Gotta Give," followed by solos from each performer.
Mazzie launches into an unexpected rendition of that perennial uptune, "A Cockeyed Optimist" (Richard Rodgers-Oscar Hammerstein II), arranged to a surprising and frisky cha-cha beat by Jack Elliott. Danieley follows up with another familiar tune, "If I Only Had a Brain" (Harold Arlen-E.Y. Harburg), with arrangers Tedd Firth and Joseph Thalken transforming the "Wizard of Oz" favorite into a Sinatra-esque lounge number.
These individual selections are meant to demonstrate the couple's opposing attitudes toward love at the time they met: Marin took a sunny-eyed view while Danieley kept making the same stupid mistakes with women. Their initial encounter, related after these songs, makes for a funny and novel anecdote: They were appearing together in an outdoor production of Charles Mee's "The Trojan Women: A Love Story" and prayed for rain so they could spend more time together offstage.
If the rest of the show displayed the same imagination as the opening, this engagement would be an exceptionally memorable one, but the subsequent picks are not as innovative. Familiar songs like Arlen and Mercer's "One for My Baby" and "Blues in the Night" express anguish and heartbreak, while George and Ira Gershwin's "Our Love Is Here to Stay" and Cole Porter's "From This Moment On" detail the couple's devotion. Don't get me wrong; both are delightful singers with winning personalities and smooth, powerful voices—though Danieley's did tend to quaver a bit and he forgot his lyrics on two occasions. It just would have been refreshing if the song list had had a few more surprises.
There are welcome unusual selections, such as Mazzie's sultry take on the Porter novelty item "The Physician," in which she saucily caressed the rhyme "molto bello" and "patella," and some scintillating scatting by the duo on "Too Close for Comfort" (Jerry Bock-George David Weiss-Larry Holofcener).
They also occasionally find moving moments in the familiar material. When Danieley pauses unexpectedly during "One for My Baby," the shattered look on his face brings us right into the sleazy, empty bar of the song's setting. Mazzie puts across an intense "Cry Me a River" (Arthur Hamilton) and a moving "Smile" (Charlie Chaplin-John Turner-Geoffrey Parsons).
Thalken provides the spot-on musical direction and tickles the ivories with style, while Pete Donovan's bass and Dave Ratajczak's drums offer the perfect backup and percussion.  
Presented by and at Café Carlyle, 35 E. 76th St., NYC. May 10–21. Tue.–Fri., 8:45 p.m.; Sat., 8:45 and 10:45 p.m. (212) 744-1600.