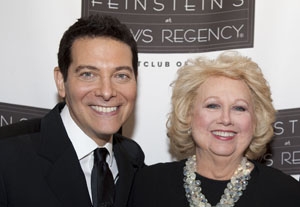 The most surprising aspect of the pairing of Broadway legend Barbara Cook and cabaret veteran Michael Feinstein is that they didn't think of getting together sooner. Their teaming is a natural. Both have a deep appreciation for the Great American Songbook and deliver their numbers—separately and in duet—with deep subtext and expert technique. The blending of those two sensuous, caressing voices and soothing yet dynamic sensibilities makes for a simultaneously comforting and intoxicating evening. Some of their song choices may be familiar, but the pair give each selection an unexpected twist or an extra intensity that renders the material uniquely their own.
Take Cook's performance of "I've Got You Under My Skin." Before starting, she explains that Cole Porter's ultrasophisticated lyrics never appealed to her, but she saw an unnamed singer on TV take a different approach to this particular standard that convinced her she should give it a try. The most familiar recording of the song is Frank Sinatra's—upbeat, fast, and almost jocular. But Cook transforms the number into a desperate cry of a woman plagued by an obsessive love that begs to be requited. Her "Ac-Cent-Tchu-Ate the Positive" (Harold Arlen–Johnny Mercer) is a joyous camp-meeting rouser, and she endows the somewhat clichéd lyric of "Here's to Life" (Artie Butler–Phyllis Molinary) with heart-gripping sincerity. She stops the show with an achingly painful "Where Do You Start?" (Johnny Mandel–Alan and Marilyn Bergman), an almost documentary account of a broken marriage.
While Cook's golden voice is not as strong as it was in her heyday, during the golden age of the Broadway musical, it maintains its magnificence of range, from feathery delicacy to powerful urgency. And Feinstein has never been in better form. Fully recovered from "All About Me," his recent unsuccessful Broadway partnership with Dame Edna Everage—he even jokes about the critical debacle—Feinstein delivers the goods, both in front of the microphone and at the eighty-eights (musical director John Oddo is at the piano for most of the show and does a masterful job). The vocalist delivers a sexy "There'll Be Some Changes Made" (W. Benton Overstreet–Billy Higgins); a touching "Ever After" (Marcy Heisler–Zina Goldrich), from an upcoming Broadway musical of the same name; and a folksy and then soaring "Without a Song" (Vincent Youmans–Edward Eliscu–Billy Rose).
The two stars combine for the bitchy "You Could Drive a Person Crazy" (Stephen Sondheim)—the arrangement is the one used in the recent "Sondheim on Sondheim" show, in which Cook starred—and an imaginative medley of "The Very Thought of You" (Ray Noble) and "Tea for Two" (Vincent Youmans–Irving Caesar).
For this reviewer, the highlight of this glorious set was no one particular song; it was the faces of the headliners as they watched each other perform. Both Cook and Feinstein displayed rapt attention and appreciation as they watched the other pour all of his or her skill and talent into each number.
Presented by and at Feinstein's at Loews Regency, 540 Park Ave., NYC. Sept. 7–Oct. 2. Tue.–Thu., 8:30 p.m.; Fri. and Sat., 8 and 10:30 p.m. (No performance Tue., Sept. 14; Barbara Cook performs alone on Sat., Sept. 25, with no late show.) (212) 339-4095 or www.feinsteinsatloewsregency.com.