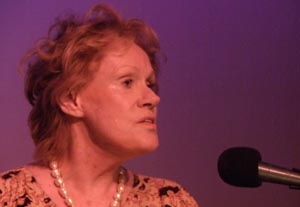 Tammy Grimes
is a trouper. When early on in "Miss Tammy Grimes: Favorite Songs and Stories," her new show at the Metropolitan Room, it became apparent she was having difficulty deciphering the large-print script of patter perched on a stand before her, she didn't panic. After asking for more light, and then gamely trying to read an anecdote or two, she simply jettisoned her stories and sailed on with her songs, which she punctuated with the occasional brief remark. While I'm sure I would have enjoyed her reminiscences—and no doubt her subsequent audiences will after conceiver-director Joel Vig rectifies the problem—this theatrical legend showed she still has what it takes to put over a song. Grimes is one of the most original and idiosyncratic talents to grace a New York stage. If, at 76, she's a bit physically frailer and memory-challenged, she still retains her nonpareil allure and showbiz know-how. The lady is one class act.
Immeasurably aided by musical director Christopher Denny's elegant support, Grimes impresses with her versatility in an ambitious set of 21 songs. Early on, she goes from a delightfully puckish rendition of John Kander and Fred Ebb's "Ring Them Bells" to a subdued, haunting "Martha," a Tom Waits song about two young lovers who break up, marry other people, and miss each other for the rest of their lives. Then, before you know it, she's going full throttle on the 1920s ditty "Yes Sir, That's My Baby" (Gus Kahn–Walter Donaldson), infusing it with magnetic vitality and displaying a remarkably powerful lower-register belt.
Grimes' top notes may be somewhat fragile these days, but she still hits them with accuracy and smartly turns that fragility into a dramatic or comic asset. Her phrasing is eccentric yet impeccable, and boy does she know how to deliver laughs in a lyric. Oscar Brown's "The Snake," a wicked metaphorical meditation involving a woman who rescues a reptile, is sly and sharp, and she makes a comic meal out of Cole Porter's wittily snobbish "Tale of the Oyster." She contrasts them with a direct and deeply felt "How Deep Is the Ocean" (Irving Berlin), sung to her late third husband, composer Richard Bell, whom she calls the love of her life, and a stark "Pirate Jenny" (Bertolt Brecht–Kurt Weill–Marc Blitzstein) notable for its fierce subtlety, a quality too rarely employed in performances of the Brecht-Weill canon.
The second half is devoted to songs she's performed on or off Broadway. Her delicious "Home Sweet Heaven" (Hugh Martin–Timothy Gray, with an unbilled lyric assist from
Noël Coward
) was slightly marred by a brief lyrical lapse, but she recovered for a haughtily playful "You'd Better Love Me" (Martin–Gray). (Both songs are from "High Spirits," the Coward-directed musical version of his hit comedy "Blithe Spirit.") "Someday I'll Find You" (Coward), from "Private Lives," shines with a translucent simplicity, while "About a Quarter to Nine" (Al Dubin–Harry Warren), from "42nd Street," bursts with a warm joy.
The evening's unquestionable highlight is three songs by
Meredith Willson
from Grimes' Tony-winning stint in "The Unsinkable Molly Brown" (she tells us that her daughter, actor Amanda Plummer, refers to her mother's signature role as "the unthinkable Molly Brown"). Grimes is radiant in "My Own Brass Bed," then sings "I'll Never Say No to You" in tribute to the late Harve Presnell, who starred opposite her in the show, uncannily evoking him. When she dives into the musical's triumphant opener, "I Ain't Down Yet," 50 years fall away before our eyes, and the young Molly Brown stands before us in all her glory. It's a moment I'll never forget.
This is your chance to catch a legend at work. Don't miss it. Oh, and as I always make it a point to help out Broadway royalty when personally asked, let me just say: Amanda, call your mother.
Presented by and at the Metropolitan Room, 34 W. 22nd St., NYC. June 22–30. Tue.–Sun., 7 p.m. (No performances Wed., June 23, and Thu., June 24.) (212) 206-0440 or www.metropolitanroom.com.