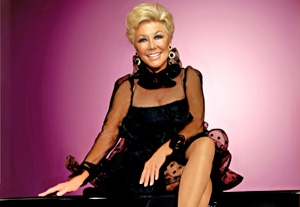 Time seems to run backwards when Mitzi Gaynor makes her first entrance at Feinstein's at Loews Regency for her New York cabaret debut. Clad in an oversized sailor suit, she doesn't appear to have aged a day since she wore the same kind of costume in the beloved film version of "South Pacific." At the opening night performance, her mere appearance generated a standing ovation. Instead of basking in the appreciation, the caustic Gaynor pretended to leave and joked "Okay, next show is tomorrow at 8:30." That self-depreciating crack—evidently ad-libbed—sets the tone for this fun, frolicsome 90-minute set. Not only is the legendary Gaynor still a dynamic entertainer of the old school, but she's damn funny, too. When she hears titters from the audience after explaining she came to Hollywood during the war, she snaps, "Not the war between the states, bitch!"
While her voice is not quite the trumpet it once was and her sizzling dance moves are restricted to a few selected steps, "Razzle Dazzle! My Life Behind the Sequins" is an absorbing trip through a fascinating career and a joyful musical treat. The format is a scaled-down version of her TV specials and nightclub acts. Musical numbers and anecdotes of the star's Hollywood career are sandwiched in between six costume changes (the shimmering gowns are by Bob Mackie, no less) and video clips of the younger Gaynor cavorting across soundstages with the likes of Bing Crosby, Frank Sinatra, Gene Kelly, and Donald O'Connor.  
The expected medley of "South Pacific" tunes is balanced with a down-and-dirty version of "Show Off" (Lisa Lambert-Greg Morrison) from "The Drowsy Chaperone" featuring stripper tassels artfully and discreetly employed by the game Gaynor. She easily makes the transition from ribald to touching with a tribute to her late husband followed by a dewy-eyed combination of "If I Had You" (Irving King-Ted Shapiro) and "It All Depends on You" (Ray Henderson-Buddy DeSylva-Lew Brown).
The songs are great, but, oh, those marvelous stories. Gaynor was a top musical star during the last throws of the studio system and she knew everyone from Howard Hughes to Ethel Merman to the Duke of Windsor. It's like spending 90 minutes with your favorite movie star bio at the beach.
Musical director Ed Czach provides sturdy support and plays a smooth piano with Paul Kreibich on drums, David Finck on bass, and Gary Nesteruk on keyboard.
Presented by and at Feinstein's at Loews Regency, 540 Park Ave., NYC. May 18–29. Tue.–Thu., 8:30 p.m.; Fri. and Sat., 8 p.m. (212) 339-4095 or www.feinsteinsatloewsregency.com.