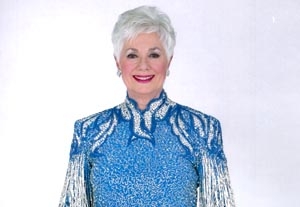 Shirley Jones turns 77 on March 31, an age at which she could be forgiven for kicking back, sitting on her laurels, and enjoying her grandchildren. But here she is, looking trim and terrific at Feinstein's at Loews Regency, making, of all things, her nightclub debut. Of course, the stage and film star is also an experienced concertizer with symphony orchestras, but that's not the same thing as saloon singing. But like the consummate pro she is, Jones proves as at home with the intime as she is with the grand. In an evening weighted heavily toward the work of composer Richard Rodgers, who discovered Jones when she was but 20, the lady is a champ.
Up top, it seems that perhaps things aren't going to go so well. After beginning with a rather pro forma "Where or When" (Rodgers–Lorenz Hart)—which has Jones standing about aimlessly for far too long during instrumental sections—a rushed rendition of "A Wonderful Guy" (Rodgers–Oscar Hammerstein II) misses the song's explosion of pure joy. This is followed by the evening's sole misstep: Musical director Ron Abel's arranged-to-death version of Stephen Sondheim's "Send in the Clowns," which turns an understated dramatic monologue in song into a forced and melodramatic arioso. This is a real pity, as the Academy Award–winning Jones has the acting chops to make this classic special.
Then, however, she hits pay dirt in a gorgeous and deeply felt medley of "What's the Use of Wondrin'?" and "If I Loved You" (Rodgers–Hammerstein), her two signature songs from "Carousel," her second film. Jones connects these songs to her love of first husband Jack Cassidy, a Billy Bigelow type if ever there was one, and the result is electric. This material is in her bones, and the small-town Pennsylvania lass delivers it with a rock-solid authenticity that's all too hard to come by in these early years of the 21st century.
After that, Jones sails confidently through the rest of her nearly 90-minute show. Highlights include a light and lovely Rodgers-and-Hart medley of "Little Girl Blue" and "Blue Moon," which she links to her relationship with second husband Marty Ingels; a tight and swinging "This Can't Be Love" (Rodgers–Hart), showing off an attractively husky chest voice; and a galvanizing "Can't Help Loving That Man" (Jerome Kern–Hammerstein) that proves Jones can get down with the best of them.
But what people have come to hear are Laurey Williams, Julie Jordan, and Marian the Librarian, and Jones is at her very best re-creating their material. A "Music Man" medley includes versions of Meredith Willson's "Till There Was You" and "Goodnight, My Someone" sung with the same intensely affecting simplicity the lady gave them on screen nearly 50 years ago. She aces four songs from "Oklahoma!" (Rodgers–Hammerstein), crowned by a melting and ethereal "Out of My Dreams." Her encore is that R&H warhorse "You'll Never Walk Alone," and Jones' honesty scrapes away all the sentimental sludge that song has acquired through the years from endless insincere performances that have treated it as so much Muzak.
I don't mean to suggest that you're going to hear a singer undimmed by time. Jones' voice is in better shape than some of her contemporaries, but she hasn't escaped the soprano's inevitable destiny of powder replacing power. Fortunately, she is clear-eyed about her voice, and she navigates the pitfalls with exceptional musicianship, so that you are never worried that she will attempt something she can no longer accomplish. She gets real points for not rewriting the endings of songs to avoid high notes, and she delivers those high notes with surprising force and an attractively full sound. This is bracingly intelligent singing, for which credit must undoubtedly be shared with Abel, whose musical direction more than lives up to his name, as do his mostly unfussy arrangements, which benefit greatly from Mark Vanderpoel's work on bass.
The evening's subtitle is "An Evening of Story and Song," and Jones' tales of her career, while probably mostly familiar to her fans, are still fun to hear right from the source, particularly a humorous one involving her pregnancy with son Patrick and her "Music Man" co-star Robert Preston. There's also a revealing Sondheim nugget (who knew they've been lifelong friends?) that I won't spoil here. Gratifyingly, "The Partridge Family" is dispensed with in a few bars of its theme song. That's not what this evening is about. This is about Shirley Jones, musical theater performer par excellence, and boy is she ever.
Presented by and at Feinstein's at Loews Regency, 540 Park Ave., NYC. March 15–19. Wed. and Thu., 8:30 p.m.; Fri. and Sat., 8 and 10:30 p.m. (212) 339-4095.