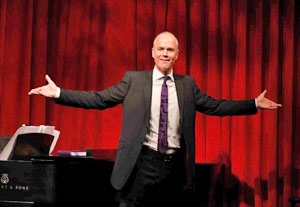 Having been completely captivated by Simon Green's show "Coward at Christmas" last year in the Brits Off Broadway festival, I couldn't resist seeing this year's effort, "Traveling Light," once again with the invaluable David Shrubsole at the piano. Exploring the theme of travel both literally and metaphorically, this brisk 85-minute entry doesn't cohere quite as well as the Coward tribute, but Green and Shrubsole still prove delightful company.
The slim, dapper Green has an extensive resume of West End credits, and he has also directed the troupe Fascinating Aїda, currently at 59E59 in the musical revue "Absolutely Miraculous!," in a previous show. His boyish energy, sparkling intelligence, and dry wit serve him well delivering the urbane songs of writers such as Coward, Stephen Sondheim, Howard Dietz and Arthur Schwartz, Richard Maltby Jr. and David Shire, and Leonard Bernstein, Betty Comden, and Adolph Green in an attractive light tenor. A lively intertwining of Coward's "I Like America" and Dietz and Schwartz's "Rhode Island Is Famous for You" gets things off to strong start. Other highlights include two rarities: a cheeky rendition of Richard Rodney Bennett's "Let's Go and Live in the Country" and a wonderfully sly "Some Little Bug Is Going to Find You," which details the dangers of eating abroad. (Written in 1915 as an interpolation for star comic Roy Atwell in Franz Lehar's operetta "Alone at Last," it has music by Silvio Hein and a lyric by Atwell and Benjamin Hapgood Burt.)
Green can also be affectingly reflective, most notably in a thoughtful matching of Bernstein, Comden, and Green's antiwar protest song "So Pretty" with Sondheim's "Children Will Listen" and a lucid account of the Irving Berlin classic "How Deep Is the Ocean." He is, however, less successful evoking the longing in two Kurt Weill songs, "It Never Was You" (lyric by Maxwell Anderson) and "My Ship" (lyric by Ira Gershwin), proving more at home with the very English sentiment of Ivor Novello and Edward Moore's "The Land of Might-Have Been," which makes for a fine finale.
Shrubsole includes three poems for which he composed musical settings: "Poem of the Road" by Walt Whitman, "No Alarm on the Flight Deck" by Pam Ayres, and "Going Down Hill on a Bicycle" by Henry Charles Beeching. Each is a gem and smartly executed by Green. Shrubsole's excellent arrangements include an insinuating take on Jerry Herman's "Open a New Window" that puts a contemporary spin on its warmhearted optimism and an inspired pairing of Sondheim's "All Things Bright and Beautiful" (cut from "Follies") and "Take Me to the World" (from the TV musical "Evening Primrose"), two rapturous songs in which the singer nevertheless never gets what he wants.
Interspersed with the songs are thematically related pieces of prose and poetry by such authors as Coward, Mark Twain, Rudyard Kipling, W.H. Auden, and the perceptive A.A. Gill, who turns out to be a current restaurant critic and travel writer for the Times of London. They don't always seem to lead as inevitably as they might to the next musical entry, but they are unfailingly enjoyable.
I could have done without Donald Swann's rather hot-house settings of poems by Robert Frost and J.R.R. Tolkien, and I'm afraid I've never warmed to the generalized, slightly New-Agey sentimentality of popular English songwriters George Stiles and Anthony Drewe. Still, those are but small speed bumps in a charming and imaginative journey.

Presented the Yvonne Arnaud Theatre, Guilford as part of Brits Off Broadway 2009 at 59E59 Theaters, 59 E. 59th St., NYC. Dec. 20–Jan. 3. Tue. and Thu., 7:30 p.m.; Wed., 8:30 p.m.; Sat., 6:30 and 9:30 p.m.; Sun., 3:30 and 7:30 p.m. (212) 279-4200 or www.ticketcentral.com.