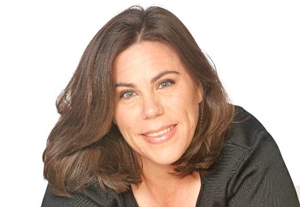 Gretchen Reinhagen's one-woman salute to the great Kaye Ballard won a 2010 Nightlife Award and has been installed in an open-ended one-performance-per-month run at the Metropolitan Room. These accomplishments, plus my personal affinity for the work of the evening's subject, made the decision to check it out an easy one. The results were a bit surprising but mostly gratifying.
Reinhagen is fortunate to have director Barry Kleinbort, who has written for and worked with Ballard, to help her put the act together. Not only does Kleinbort shape it well, happily unafraid of obscure material and stories, he directs it crisply and provides two wonderfully witty pieces of special material to boot. Everything Reinhagen sings has been done by Ballard either on stage or on a recording. Kleinbort is uninterested in probing deeply into his subject's life, but that probably helps the evening's 70 minutes fly breezily by.
A confident, polished performer with excellent diction and a lovely mix, Reinhagen is welcome company, though her belt can get a bit grating. What she is not, however, is particularly reminiscent of Ballard. The moments when she successfully evokes the lady's unique persona are few. I confess I hadn't expected this. But there's really no reason why a tribute to a performer's career requires it. So I let the expectation go.
I'm glad I did, for there was much to enjoy. Reinhagen has a simple and clear way with a ballad, and she gave fine renditions of the John Latouche–Jerome Moross classic "Lazy Afternoon"; the gorgeous rarity "Be With Me," written by Marc Blitzstein for the infamous flop "Reuben, Reuben"; and John Kander and Fred Ebb's pop classic "My Coloring Book." There's also a comically robust "I've Still Got My Health" (Cole Porter) and a delightful "Stepsisters' Lament" (Richard Rodgers–Oscar Hammerstein II), which Reinhagen shares with her solid musical director, David Gaines. Based on its content and 11-o'clock-number quality, I understand why Kleinbort and Reinhagen put "Go in the Best of Health" (Jerry Livingston–Mack David–Leonard Adelson) into the beg-off slot, but the song only served to provide evidence of why the Broadway musical "Molly," based on Molly Goldberg, the famous character created by actor-author Gertrude Berg, closed so quickly. Fortunately, a sensitive rendition of "Fly Me to the Moon (In Other Words)" (Bart Howard) as an encore quickly made up for it.
Presented by and at the Metropolitan Room, 34 W. 22nd St., NYC. Opened March 1 for an open run. Schedule varies. (212) 206-0440 or www.metropolitanroom.com.