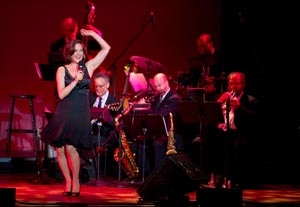 There's a reason why most nightclub sets last scarcely longer than an hour. It's a format that inevitably begins to feel repetitive, even when practiced by performers and musicians as gifted as those assembled for "The Crowd's at El Morocco: The Heyday of the New York Nightclubs," part of the 92nd Street Y's Lyrics and Lyricists series. Clocking in at a bloated two and a half hours, the show never manages to escape from meander mode, despite a few high points.
On paper, the promise was palpable. Debby Boone, La Tanya Hall, James Naughton, Billy Stritch, and Karen Ziemba, an intriguing mix of personalities, are all accomplished song stylists with club acts of their own. A topflight six-piece band—Aaron Heick (reeds), George Rabbai (trumpet), Bob Mann (guitar), Jay Leonhart (bass), James Saporito (drums), and John Oddo (piano and music director)—is on hand to play Oddo's seriously swinging arrangements like the way cool "cats" Naughton dubbed them at one point. Series artistic director Deborah Grace Winer, who's written her own book on the cabaret scene, provides the informative commentary, and veteran nitery and revue director Mark Waldrop is there to whip it all into shape.
Somehow, though, the evening doesn't find its shape, devolving after the ensemble opening "Fever" (Eddie Cooley
–
Otis Blackwell
–
Peggy Lee) into a progression of solos broken only occasionally by a duet. And indeed, we were seven songs in before Naughton and Stritch, with an assist from Oddo, injected a welcome jolt of energy with a witty and harmonically pleasing rendition of "Glow Worm" (Johnny Mercer
–
Paul Lincke). That's too long to idle in neutral.
Unfortunately, that was one of Act 1's few standouts. Ziemba couldn't find the aching hunger in Frank Loesser's "I Wish I Didn't Love You So" and had to negotiate some rather thin high notes that didn't help. Boone was overpowered by Oddo's percussive arrangement of "You and the Night and the Music" (Howard Dietz
–
Arthur Schwartz), showing her insecurity right away by muffing the lyric's opening line, singing "burning" instead of "flaming" as the adjective for "desire" and killing Dietz's subtle use of alliteration. Hall lost the sinuous musical line of "Lazy Afternoon" (John Latouche
–
Jerome Moross) in melismas and was further undercut by Jay Bianchi's arrangement featuring inappropriate conga drums that fought the song's hypnotism.
On the plus side, Naughton delivered an impeccably elegant "Stardust" (Mitchell Parish
–
Hoagy Carmichael), Ziemba gave a sly twinkle to "I'd Rather Cha Cha Than Eat" (Elisse Boyd
–
Murray Grand), and Stritch offered "Fly Me to the Moon (In Other Words)" (Bart Howard) with a transparent simplicity (backed by solo guitar) that was abruptly thwarted by turning the song into an audience sing-along, which was notably resisted.
Act 2, though still largely a string of solos, fared somewhat better. Hall offered a delightful "Ballad of the Shape of Things" (Sheldon Harnick), getting solid laughs and banishing memories of the formidable Charlotte Rae, for whom it was written. Ziemba came through with a joyously triumphant "The Song Is You" (Oscar Hammerstein II
–
Jerome Kern) and shared a warmly flirtatious "That Old Black Magic" (Mercer
–
Harold Arlen) with Naughton.
But it was left to that two-time Tony-winning stage vet to bring the house down, which Naughton did with a virtuosic and riotous "I'm Hip" (David Frishberg
–
Bob Dorough) that owed much to Naughton's skill at creating a character.
Of course, nightclub singing generally eschews such theatricality, which seems phony and outsized in the intimacy of a cabaret room, something the 92nd Street Y auditorium most certainly is not. That was a problem nobody seems to have considered. And while it was nice to see the legendary Julie Wilson receive a well-deserved award from the Cole Porter Trust for popularizing his music, the intermission presentation only served to make an overlong evening longer. 
Presented by and at the 92nd Street Y as part of Lyrics and Lyricists, 1395 Lexington Ave., NYC. April 30–May 2. Mon. and Sat., 2 and 8 p.m.; Sun., 2 and 7 p.m. (212) 415-5500 or www.92y.org.