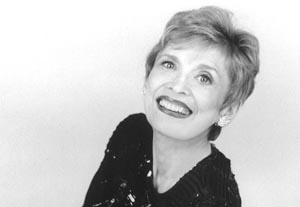 It was during the week I turned 14, on a trip from Ohio with my fellow high school thespians, that I first encountered "The Fantasticks," which was eight years into its record-breaking 42-year run at the snug Sullivan Street Playhouse. That night I fell in love with Tom Jones and Harvey Schmidt's beautiful show, the gloriously counterculture Greenwich Village, and Off-Broadway itself.
Upon returning home I quickly obtained the musical's original cast album, and I fell in love once more—with Rita Gardner's madly impetuous and thrillingly sung Luisa. Off-Broadway nurtured Gardner, and she is currently reliving those days in her club act "Try to Remember: A Look Back at Off-Broadway," at the Metropolitan Room. And you know what? That love thing happened all over again.
Gardner was an ingénue with real bite, and that happy confluence of qualities has been undimmed by time, as has her striking beauty. The elfin entertainer is in fine voice in this marvelous hour, and when she begins by singing the opening bars of Luisa's first song, "Much More," well, it's something. Wisely, though, she sidesteps nostalgia, switching quickly into a driving "I Can See It," a "Fantasticks" song she didn't get to sing, which starts things off with a bang. She shows off her effortless charm in several Jerry Herman revue numbers, including humorously singing a duet with herself in "Your Good Morning," from "Nightcap," and offering a lovely and touching version of "Your Hand in Mine," from "Parade."
Director Barry Kleinbort's smartly structured show then locks into place with musical director Alex Rybeck's ingenious Off-Broadway medley, which mixes up songs Gardner sang, songs she should have sung, and songs she'd never have had the chance to sing while reminding us of the breadth and depth of talent Off-Broadway has showcased across the years. (Though including Sandy Wilson's "The Boy Friend" is a bit of a cheat, as the show, though certainly revived Off-Broadway, debuted on the Great White Way.)
Gardner sprinkles the evening with a lightly acerbic wit as she recounts various anecdotes about her career (watch out for one involving Larry Hagman and a motorcycle and another about Cicely Tyson and a stocking cap). Other musical highlights include a properly mesmerizing "Lazy Afternoon" (John Latouche–Jerome Moross, from "The Golden Apple"), a ferocious "Carousel" (Jacques Brel, English lyric by Eric Blau, from "Jacques Brel Is Alive and Well and Living in Paris," in which Gardner replaced Elly Stone at the Village Gate), an impish "Initials" (Galt MacDermot–Gerome Ragni–James Rado, from "Hair"), and a cutting "I Don't Remember Christmas" (Richard Maltby Jr.–David Shire, from "Starting Here, Starting Now"). The lady's affinity for the work of Jones and Schmidt is especially apparent in two songs from their underrated score for "Colette Collage." Gardner sings the haunting "I Miss Him" about her close friend and "Fantasticks" co-star Kenneth Nelson, lost far too soon to the scourge of AIDS, while the ecstatic "Joy" serves as a galvanizing encore.
The show saves the best for last, though, with Gardner delivering a double-barreled climax. First up is her stunning account of "What I Did for Love" (Marvin Hamlisch–Edward Kleban, from "A Chorus Line"), in which she turns this rather generic 11 o'clock ballad (so disliked by its lyricist, Kleban, that he banned it from being sung at his memorial) into a multilayered and moving summation of a lifetime. Then, after an introductory portion of "Try to Remember," she settles into "They Were You" with the same aching simplicity she gave it more than 50 years ago in "The Fantasticks" (and in what certainly sounded like the same key).
Nostalgic at last? Perhaps. But what it conveyed most to me was authenticity. That's a precious commodity in any performer, and it is the soul of the extraordinary Rita Gardner.
Presented by Sherry Eaker at the Metropolitan Room, 34 W. 22nd St., NYC. Sept. 9–18. Fri., 9:30 p.m.; Sat. and Sun., 7 p.m. (212) 204-0440 or www.metropolitanroom.com.