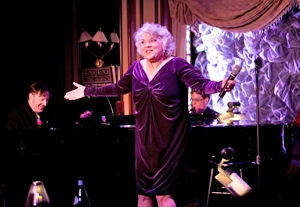 I didn't catch Tyne Daly's debut at Feinstein's at Loews Regency last year, but it's clear from her new show, "The Second Time Around," why the lady was asked back to help celebrate the boite's 10th anniversary. Firmly in command and yet engagingly offhand, she nails every moment in this inventively structured consideration of the theme of time. If her vocal instrument isn't as mighty as that of certain other Broadway divas, her musicality is faultless and her way with a lyric unerring. Daly is singing better than I've ever heard her, whether belting or chansoning, and her formidable acting ability is on full display. Under David Galligan's incisive direction, she delivers just over an hour's worth of sheer delight.
Daly begins with a bang in a witty parody of Irving Berlin's "The Hostess With the Mostes' on the Ball" full of personal info. Her wickedly ebullient performance is no doubt informed by having written the lyric herself. It's good enough to suggest she has another career ahead of her should she ever tire of performing. Then she segues into a sly and smart take on Johnny Mercer and Gene DePaul's comic look at the future, "Oh, Happy Day" (from "Li'l Abner"), mining every moment of its saucy wordplay. By now we're firmly in her hands.
A medley of three songs about time then states the evening's theme, striking just the right note of restrained sentiment, even if the middle tune, Jule Styne and Sammy Cahn's classic "Time After Time," slightly swamps the first ("There! I've Said It Again" by Redd Evans and David Mann) and third ("My Time Is Your Time," a Rudy Vallee number written by R.S. Hooper and H.M. Tennent). A Vallee fan, Daly follows with a real rarity ("Betty Co-Ed," with a lyric by Vallee and music by J. Paul Fogarty) that does indeed contain, as she promises, one of the worst puns known to man.
Highlights that follow include a "Sonny Boy" (B.G. DeSylva, Lew Brown, Ray Henderson, Al Jolson) stripped of its sentimentality and juxtaposed with Bill Withers' R&B hit "Ain't No Sunshine" to illustrate musically how children grow up far too quickly. "That's Him Over There" (lyric by Marilyn Keith, music by Lew Spence) is a touching character portrait of a woman for whom time is suspended as she encounters her ex-lover for the first time in a public place. (Keith married and went on to become Marilyn Bergman; this is her first published lyric.) Daly offers a fierce take on Bessie Smith's "Send Me to the 'Lectric Chair" (George Brooks), about a woman who murdered her lover and has no interest in doing time, and a notably hard-bitten, intriguingly dark "Adelaide's Lament" (Frank Loesser).
While Daly approaches each song from an acting perspective, she never completely submerges her own personality. Each character is filtered through her, giving us the best of both worlds: cabaret intimacy and theatrical acuity. She even transforms herself into a completely convincing Gallic chanteuse for a beautiful rendition of "Stardust" (music by Hoagy Carmichael, lyric by Mitchell Parrish) sung entirely in French, which also features a lovely piano solo from musical director John McDaniel. This leads into three Jerry Herman songs from "Dear World," with Daly making no bones about the fact that she wants to play the Countess Aurelia in this musical adaptation of Jean Giraudoux's "The Madwoman of Chaillot." She's right; she should.
McDaniel's festive arrangements for piano, bass, percussion, woodwinds, and cello are well-judged and well-played by Tom Hubbard, Ray Marchica, Rick Heckman, and Peter Sachon. At the piano, McDaniel supports his star faultlessly, and I assume he should also get credit alongside Galligan for helping to create this memorable and magical evening.
Presented by and at Feinstein's at Loews Regency, 540 Park Ave., NYC. Jan. 19–30. Tue.–Thu., 8:30 p.m.; Fri. and Sat., 8 and 10:30 p.m. (212) 339-4095 or www.feinsteinsatloewsregency.com.