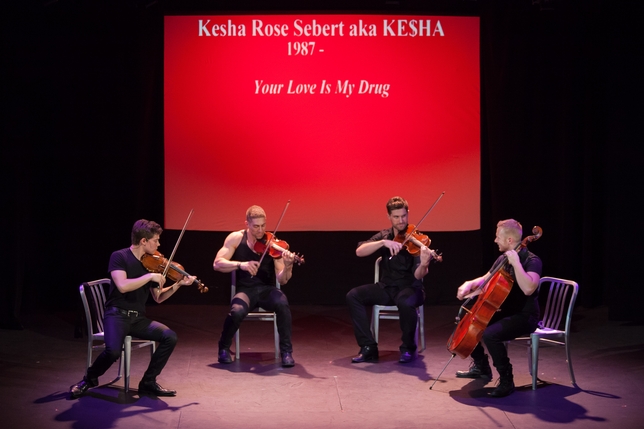 It's a delightful, indisputably novel concept: four foxy young guys playing classical and pop tunes on violin, viola, and cello and singing at the same time. Its execution, in the show by the pioneering foursome known as "Well-Strung," needs only to be fine-tuned. It is impossible not to appreciate the performers' mastery of the unusual and immensely challenging task of simultaneously singing while playing an instrument in a string quartet. And there's no comic effect whatsoever. These young'uns are serious, trained musicians. My hat's off to them all: Edmund Bagnell (first violinist), Christopher Marchant (second violinist), Trevor Wadleigh (violist), and Daniel Shevlin (cellist).
However, the group plays its classical-music excerpts (by Mozart, Bach, Vivaldi, and Dvorak) as if they are all showpieces, racing fiercely through the works with little attention to subtleties or the kind of sensitive interplay among instruments generally considered the hallmark of fine chamber music. The boys in this band clearly feel greater affinity for the pop pieces than they do for the classical ones. They exhibit more sensitivity when playing the newer music, yet their overall performance style remains heavily influenced by rock-concert mass-entertainment values. There's little dynamic variety, too much furious sawing away, bow hairs breaking, each number revving us up, as if the quality of a show is measured by how hard the performers appear to be working.
Conceived by Marchant and Mark Cortale and cautiously directed by Donna Drake, the70-minute evening interweaves classical selections with invigorating vocal and string-quartet arrangements (by David Levinson and Shevlin) of pop hits by Lady Gaga, Ke$ha, Britney Spears, Pink, Adele, Rihanna, and others. The arrangements give a more pronounced role to the cello than the instrument typically receives in traditional string quartets, imbuing much of the familiar music with a surprising, sinister quality. But aside from a few instances of rushing and sloppy pitch, especially at the end of vocal phrases, when the performers seem to be running out of breath, the group offers gratifyingly fresh takes on the popular songs.
The production's connective tissue is cabaret-style patter, in which the guys tell us personal stories about their childhood, how they came to play their stringed instrument, and the importance of music in their lives. Written by Drake, Cortale, and Jeffery Roberson, this is the production's weakest element. Though the tales are endearing and concisely crafted, they are guardedly delivered with what feels like artificial emotion and sometimes discomfort. While more-advanced acting training might help, one wishes the young men would simply develop greater confidence in revealing their inner selves. These performers give a terrific show and must start acting like the rock stars they are.
Oh, and guys, you need to prepare an encore.
Presented by Mark Cortale at the Marjorie S. Deane Little Theater, 10 W. 64th St., NYC. Feb. 28–March 16. (800) 838-3006, www.brownpapertickets.com, or www.well-strung.com.
Critic's Score: B