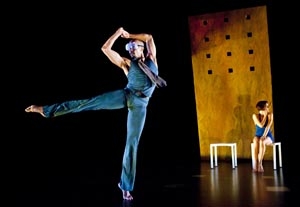 Watching the pint-size dynamo Alessandra Prosperi dance is alone worth the price of admission. And when she pairs with the elegant Martin Løfsnes, as she does twice in 360º Dance Company's program at Dance Theater Workshop, the effect is even more exhilarating. But unfortunately, great dancers are not always worthy choreographers, and it is the duo's individual choreographic efforts that bring down the evening's overall impact.
A former principal dancer with the Martha Graham Dance Company (as is Prosperi), Løfsnes founded his New York–based 360º Dance Company in 2007 with the mission of presenting modern-dance classics alongside new contemporary works. Well, if the troupe's current program is indeed representative of what is old and new in modern dance, then I want a time machine, so we can travel back to the mid-20th century, when the only choreographically notable works on the program were created.
While the evening's contemporary pieces are largely unmemorable, its "classics," two powerful solos created by Jane Dudley, are splendid. Brilliantly performed by Løfsnes, "Time Is Money," an acute, gesture-driven depiction of the predicament of the working class, is as harshly relevant today as it was when it premiered in 1934. And "Cante Flamenco" (1944), magnificently interpreted by Prosperi, fuses the postures, port de bras, and attitudes of the flamenco dancer with modern-dance fluidity and expressivity to conjure a searing portrait of feminine strength.
The most successful of the evening's new pieces is Ricardo Flores' "Que Color Tiene El Amor," a surrealistic dance-theater work composed of Magrittelike images and movement sequences that seem designed in imitation of the sexy, provocative style of Pina Bausch, yet without the keen crafting that allows the viewer to make meaning out of disjointed actions. The work only succeeds, however, because of Løfsnes's riveting performance, as a man going mad from loneliness, and Prosperi's alluring interpretation of an equally disturbed soul in search of company.
Affecting performances by Løfsnes and Prosperi also save Prosperi's "Satsang," an otherwise unremarkable ensemble piece built of unoriginal repetitive vocabulary that appears to be saying something, though it's unclear what, about human relationships. Completing the program are two unengaging works by Løfsnes: "Spike Heel," an undercooked character study blandly performed by Hana Ginsburg, and the group work "What Was Still Is," a choreographic bore set to an appealing assortment of ethnic music.
Presented by Full Circle Productions at Dance Theater Workshop, 219 W. 19th St., NYC. June 2–4. Thu. and Fri., 7:30 p.m.; Sat., 2 and 7:30 p.m. (212) 924-0077 or www.dancetheaterworkshop.org.