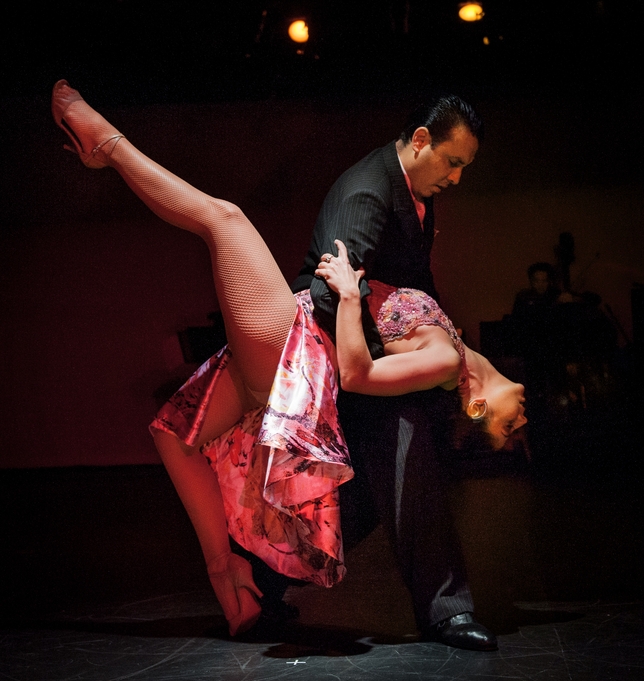 It is widely known that most American vernacular dances have African roots. But what about the tango? An invigorating new musical revue, tellingly titled "AfroTango," attempts to demonstrate that Argentinean tango dancing also harbors African roots. The latest of Thalia Spanish Theatre's always-entertaining music-and-dance spectacles, it proffers a fast 90 minutes of fabulous live bandoneón, piano, violin, bass, and vocal music and enjoyable dancing and drumming. While it isn't completely convincing that tango's ancestry is as much African as it is Spanish, it does introduce a fascinating dance genre, Candombe, which is unfamiliar to most Americans, even dance aficionados. Derived from Africans of the Bantu tribe who were brought to Uruguay as slaves, the music and dance style of Candombe is internationally recognized as a Uruguayan cultural treasure.
In lively group numbers, choreographers Carolina Jaurena and Andres Bravo juxtapose tango and Candombe dancing, prompting us to consider the similarities or shared influences between the dances of the neighboring cultures. Yet we feel as though we are seeing mainly the trappings and style of Candombe rather than distinctive dance steps. Though a basic hip-swiveling figure that resembles mambo drives the movement phrases, the theatricalized Candombe routines are spattered with splits, pirouettes, and other generic show-dance vocabulary. The most interesting element is their elaborately costumed portrayals of traditional Candombe characters, especially "the doctor." Decked out in top hat and tails, the highfalutin character is charismatically depicted by Sekou McMiller and reveals the dance's roots in slaves' mimicry of their wealthy owners. It's much like what is commonly thought to be the origin of the cakewalk, the haughty dance invented by enslaved Africans in the United States.
Conceived and directed by Angel Gil Orrios, the production is smartly cast. The two tango couples, who devise and perform their own duets, put forth splendidly opposite interpretations of the challenging partner dance. Jaurena and Bravo are superb technicians. They dance with their faces touching, not warmly rubbing noses but passionately pressing cheek to jaw. Meticulously focused, she moves with astonishing speed and clarity. Standing on one leg, the other extended to the side, in a flash she soars up and around to land neatly upon her partner's hip, her bent legs frozen into stunning sharp angles. Mandi Messina and Anton Gazenbeek, with her porcelain-doll prettiness and his stately grace charmingly punctuated by moments of understated glee, offer prim and proper tangoing of the sort one might expect of 1920s manor-house Brits, tickled to be trying this hot new dance craze.
The show's star attraction is the music, composed, arranged, and directed by bandoneónist Raúl Jaurena, who draws a full orchestra's worth of musical variety out of that one instrument. Soledad Lopez's costumes are gorgeous fun, particularly the different-colored shoes Bravo wears to match each of his suits. Also delightful are Fabricio Saquicela's colorful projections of paintings by Pedro Figari; they look like what Thomas Hart Benton might have painted had he lived in Uruguay.
Presented by and at Thalia Spanish Theatre, 41-17 Greenpoint Ave., Queens, N.Y. Jan. 25–March 17. (718) 729-3880 or www.thaliatheatre.org.
Critic's Score: B+