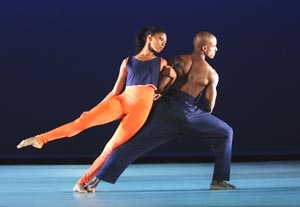 The prestigious Alvin Ailey American Dance Theater is commonly criticized for presenting choreography that is not always up to the caliber of the spectacular dancing proffered by the company's performers. The same can be said of the organization's junior company, the 12-member Ailey II, which is currently presenting a two-week, two-program season in its home space, the Ailey Citigroup Theater.
Of the four pieces on Program A, only Kyle Abraham's episodic ensemble work "The Corner" features choreography of artistic merit equal to that of the troupe's ferocious dancers. Set on an inner-city street corner, Abraham's work explores the comic, passionate, and anguished relationships that characterize teenage life. Danced to a score that ranges from rap to Chopin to Latin dance music and Donny Hathaway singing "He Ain't Heavy, He's My Brother," the piece shifts abruptly from one mood to another (as adolescents are prone to do). Book-ended by upbeat group passages, the heart of the work lies in sensitively constructed—and brilliantly performed—duets built of an organic fusion of hip-hop and contemporary dance that stylistically is a perfect match for this company's strong, hip terps.
While the program's other works also beautifully showcase the dancers' skills, they fall short choreographically. Donald Byrd's vigorous full-company closer, "Shards," is heavily ballet-influenced, with modern moves used as connective tissue for the display of balletic lines and steps. Though more emotionally energized, it resembles a Cunningham piece: ballet vocabulary stripped down to its scaffolding, devoid of stylistic trappings. The overall work, however, has no point; while your eyes remain affixed on the action, you find your mind wandering away.
Completing the program are "Doscongio," a boring solo choreographed by Robert Moses that's intrepidly interpreted by Renaldo Gardner, and Carlos dos Santos' quartet "Proximity," which hints at characters and goings-on that never cohere and is driven by a playfulness that at times feels too juvenile for this company. The quartet, however, spotlights the wonderfully contrasting talents of the flashy, charismatic Yusaku Komori and Solomon Dumas, whose cool, understated, internally focused performance style is truly beguiling.
Presented by Alvin Ailey Dance Foundation at the Ailey Citigroup Theater, 405 W. 55th St., NYC. April 6–17. Wed.–Fri., 8 p.m.; Sat., 3 and 8 p.m.; Sun., 3 and 7 p.m. (212) 352-3101, (866) 811-4111, www.theatermania.com, or www.alvinailey.org.