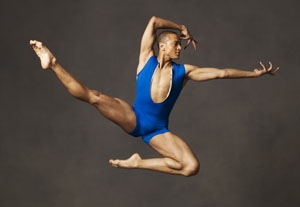 Extraordinarily consistent in its provision of high-caliber entertainment, the Alvin Ailey American Dance Theater always offers exquisitely danced performances, teeming with powerful athleticism and pungent passion. Its Dec. 16 performance—one of 10 live-music events featured in the company's current five-week season at City Center—was no exception.
The evening opened joyously with Alvin Ailey's celebratory 1976 work "Three Black Kings." Though much of the ensemble choreography looks dated, the piece's three regal male solo roles makes it an attractive showcase for the company's plethora of gifted men. Jamar Roberts displayed commanding grace as King Balthazar, Clifton Brown was an alluringly agile King Solomon, and, as the inspirational Martin Luther King, Glenn Allen Sims proved eloquently rhythmic. The work is set to a sumptuous Duke and Mercer Ellington score, which was played live on stage by Wynton Marsalis and the Jazz at Lincoln Center Orchestra.
Brown, Sims, and Kirven James Boyd gave exciting interpretation to Hans van Manen's brilliantly choreographed 1997 "Solo." A witty, speedy, subtle spoof of familiar modern-dance moves, the challenging "solo" is performed relay race–style, with one man dancing furiously and then handing the stage off to the next guy, who enters and takes over the movement as his predecessor exits.
The magnificent Linda Celeste Sims led an impressive female ensemble in a gripping performance of Ulysses Dove's "Vespers," a stark, gesture-driven 1986 work about religious fervor. Performed with crystalline clarity and penetrating emotional intensity, Dove's portrayal of a pious congregation emphasizes the controlled inner strength of the faithful, rather than the wild behaviors often provoked by spiritual beliefs.
Closing the program, again with live accompaniment by the onstage jazz orchestra, was Billy Wilson's 1992 Latin-flavored "The Winter in Lisbon." Set to sexy jazz by Dizzy Gillespie and Charles Fishman, the mirthful work is not as choreographically interesting as it needs to be; the dancing pales in relationship to the abundant movement, textures, and intricacy heard in the score. While all the theatrical elements are there—mood, characters, humor, and a suggestion of a nightclub setting—the choreography feels underdeveloped. The exception is a romantic duet, performed by Glenn Allen Sims and Renee Robinson, whose acting skills filled out the choreographic gaps, ensnaring us in the emotions of their relationship.
Presented by and at New York City Center, 131 W. 55th St., NYC. Dec. 1–Jan. 2. Tue., 7 p.m.; Wed., 2 and 8 p.m.; Thu.–Sat., 8 p.m.; Sun., 3 and 7:30 p.m. (Additional performance Sat., Dec. 18, 2 p.m.; Fri., Dec. 31, performance is at 7 p.m.) (212) 581-1212 or www.nycitycenter.org.