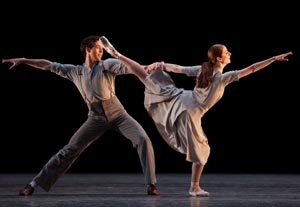 In an ambitious mixed bill titled "From Classic to Premieres," American Ballet Theatre is presenting an enlightening display of masterful choreography. With the exception of Benjamin Millepied's "Troika"—a trite trio designed to show off its dancers' technique and boyish charms and incongruously set to weighty Bach cello music—the program's ballets exhibit superb choreographic qualities that demonstrate why their creators are considered great dance makers.
The "classic" on the bill is Antony Tudor's "Shadowplay" (1967), which tells the story of a young boy who grows to emotional maturity after fighting off the demons of the earth and skies. Though the ensemble sequences appear simplistic by today's standards of technique and aerial work, in the intimate passages, in which the boy battles the terrestrial aggressor and is charmed by a celestial seductress, one sees evidence of Tudor's genius: his ability to convey psychological subtleties and complexities through an economy of movement.
The program opens with the world premiere of Alexei Ratmansky's "Dumbarton." A busy ballet suggesting the energized lives of a community of youthful working people preoccupied with romantic concerns, the piece is physically thrilling but marred by opaque hints at dramatic narrative and character relationships that remain mysterious and undeveloped. Ratmansky's brilliance lies in his fluency with the ballet vocabulary, such that he can make the execution of classical steps appear to naturally emanate from ordinary folk. Unlike other contemporary ballet choreographers, who borrow liberally from modern dance or pedestrian movements, Ratmansky can persuasively portray everyday actions and realities without ever straying from the classical lexicon.
The finest ballet on the program is the show's other world premiere, Christopher Wheeldon's "Thirteen Diversions," a moody, plotless piece full of surprising little gems of movement invention. Wheeldon's elegantly constructed work is so pleasurable to watch because, first of all, he builds well-ordered patterns out of ravishing forms that attract the eye. And then, with his ingenious use of space and focal points, he carefully "choreographs" the viewers' eye movements; we don't passively stare, but feel as though we are being taken along on a fluid, lively, and engaging visual journey.
And while the choreography may be the "star" of this show, the company's world-class dancers perform the entire program flawlessly.
Presented by American Ballet Theatre at the Metropolitan Opera House, 1 Lincoln Center, NYC. Mixed Bill: May 24–26; ABT Spring Repertory Season: May 16–July 9. Mon. and Tue., 7:30 p.m.; Wed., 2 and 7:30 p.m.; Thu. and Fri., 7:30 p.m.; Sat., 2 and 8 p.m. (212) 362-6000 or www.abt.org.