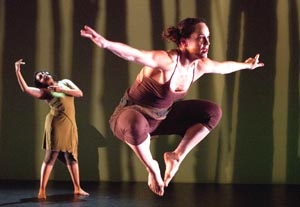 As long as she is introducing new material—as in the first 35 minutes of her atmospheric evening-length dance piece "Forest"—Wendy Jehlen is a captivating choreographer, with sharp musical sensibilities, an affinity for the natural integration of modern and world dance styles, and a deep sensitivity to the connections between human body movements and moods. However, when it comes time to develop her thematic vocabulary into compelling choreography—as in the second half of "Forest"—she is at a complete loss, turning what was initially an entrancing experience into a lulling and insignificant choreographic event.
Performed by Jehlen's Boston-based company, Anikai Dance, "Forest" was inspired by the charismatic Cambridge-area storyteller Brother Blue, who often painted a blue butterfly on his cheek. Set to a delicious assemblage of world music, in which soothing landscapes of sounds are peppered with punchy rhythms, "Forest" opens with the dancers clumped into a gnarled shape that suggests an ancient tree. Out of the tree emerges Jehlen, as a butterfly, dancing a blend of contemporary movement and classical Indian vocabulary with elegant weight, strength, and pounding rhythms, uncharacteristic of a flying insect yet evocative of some sort of feisty forest creature.
As the work proceeds, the dancers become abstractions of other woods inhabitants, including at one point what appear to be feral cats, which stalk suspensefully and then battle it out in an exciting capoeira duet. An intriguing mound, made by one dancer draped on top of another, grows gorgeously into a tall tree. A quintet of spunky "four-legged" animals scampers about, creating a delightful musical episode out of the slapping sounds made by their feet and hands against the stage floor. Jehlen's choreography makes extensive use of inverted movement, in which the arms are the weight-bearing limbs and the legs serve gestural functions.
While its ravishing lighting (by Pradhuman Nayak and Lynda Reiman) keeps it visually engaging throughout, around the halfway point "Forest" starts to become a choreographic bore. Instead of enlarging her ideas, Jehlen simply references segments of them, to lesser effect than when originally seen, and fills in the gaps with extended passages of overly familiar contemporary dance movements that resemble nothing more than contact improvisation class exercises.
Presented by Anikai Dance as part of the Dance Theater Workshop Guest Artist Series at Dance Theater Workshop, 219 W. 19th St., NYC. July 21–24. Wed.–Sat., 7:30 p.m. (212) 924-0077 or www.dancetheaterworkshop.org.