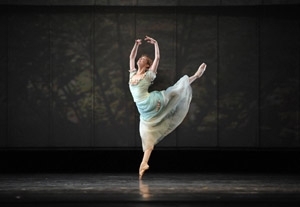 With its ravishing performance of "Anna Karenina," ingeniously choreographed by Alexei Ratmansky, the Mariinsky Ballet (known as the Kirov during Soviet times and the Imperial Russian Ballet before that) kicked off its one-week run at the Lincoln Center Festival with all the magnificence one expects from what is perhaps the most historically revered ballet company in the world.
Based on the famed Tolstoy novel about the tormented adulteress, "Anna Karenina" tells its tragic tale with Ratmansky's signature storytelling speed, efficiency, and imagination. Much is communicated in a short amount of time in his ballets. Through concise, shrewdly selected gestures, atmospheric ensemble dancing, and the swift overlaying of simultaneous actions, Ratmansky conveys not only the detailed plot but also the rich romanticism and deep psychological terrain of the heartbreaking story.
Though a master at relating narrative through movement alone, here Ratmansky receives a tremendous amount of assistance from the ballet's music, décor, and star. One feels as though half of the choreographer's storytelling job is done for him by Rodion Shchedrin's colorful programmatic score. With its elaborate mining of the varied timbres that can be elicited from different orchestral instruments, the music evocatively signals, supports, and magnifies every beat of the drama.
Mikael Melbye's sets and costumes and Wendall Harrington's video projections add immeasurably to the production's stunning visual appeal, overall cinematic flow, and choreographic effectiveness. Unlike most sumptuous ballet sets, which trade stage space for scenic grandeur, Melbye's and Harrington's designs hug the space with gorgeous period video images, projected on the back and sides of the stage, making it look like the characters are actually in a setting, as opposed to on a stage set. Spare yet striking set pieces replicate and give three-dimensionality to aspects of the projections, melding beautifully with the video while typically taking up very little dancing area.
Most remarkable, however, is Diana Vishneva's performance as Anna. Not fiercely athletic, Vishneva possesses a light and speedy technique, unusually eloquent arms, and a dramatic electricity. But because she dances with such ease and allows her movements to emanate so persuasively from her character, one can get caught up in her acting and fail to appreciate her consistently flawless execution of Ratmansky's sometimes tricky choreography.
Presented by Lincoln Center Festival and the Metropolitan Opera as part of Lincoln Center Festival 2011 at the Metropolitan Opera House, 1 Lincoln Center, NYC. July 11–14. Mon., Wed., and Thu., 8 p.m. (212) 721-6500, (212) 362-6000, www.lincolncenterfestival.org, or www.metoperafamily.org.