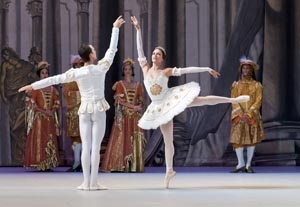 Appearing in New York for the first time in nearly a decade, Ballet Nacional de Cuba launched a four-evening run at Brooklyn Academy of Music with a stirring opening-night performance. The troupe's show, "La Magia de la Danza," is a rousingly entertaining sampler comprising tasty excerpts from the most famous ballets of all time—"Swan Lake," "The Nutcracker," Giselle," "The Sleeping Beauty," "Don Quixote," and "Coppélia"—as well as a Caribbean-flavored work set to the Louis Moreau Gottschalk symphony "Night of the Tropics."
Founded by the renowned, nearly blind ballerina Alicia Alonso (as Ballet Alicia Alonso) in 1948 and still under the general directorship of Alonso, the state-supported Ballet Nacional de Cuba (so named in 1959) exhibits formidable classical ballet technique reflective of the extraordinary training system Alonso has established in Cuba. The company's program of precision ensemble numbers and flashy pas de deux provides a stream of opportunities to show off the company's exquisitely synchronized corps de ballet and its wealth of technically phenomenal principals and soloists.
The ambitious production (which just played a week at the Kennedy Center and will travel to California after its BAM engagement) spares no expense. The ballet excerpts are performed in breathtakingly elaborate costumes in front of splendiferous painted backdrops and accompanied by a live orchestra under the baton of Giovanni Duarte. In keeping with the show's blatant yet disarmingly generous motivation to wow the crowd, Duarte delightfully exaggerates all the beloved idiosyncratic sounds and extremes of tempo and expressivity contained within the well-known ballet scores.
Aside from the featured dancers' overextended, milk-the-applause bows, the only disconcerting aspect of the performance is the apparent age discrepancy between the youthful male and seasoned female stars. When partnered, the couples often look like mother and son. This is a result, perhaps, of the tendency for many of the women to remain and build their whole careers in Cuba, whereas the men are more frequently sought after by foreign companies and defect (as did American Ballet Theatre's José Manuel Carreño and the Royal Ballet's Carlos Acosta). One wonders how long the troupe will hold on to the promising Osiel Gounod, whose standout performance as Franz in "Coppélia" displayed not only astounding elevation and turns but also a magnetic personal charm.
Presented by Brooklyn Academy of Music at BAM Howard Gilman Opera House, 30 Lafayette Ave., Brooklyn, N.Y. June 8–11. Wed.–Sat., 7:30 p.m. (718) 636-4100 or www.bam.org.