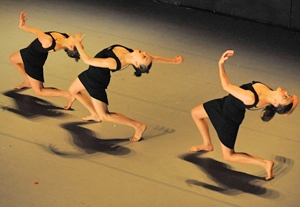 Artistic director of Israel's Batsheva Dance Company, Ohad Naharin is the most consistently enthralling choreographer on today's contemporary dance scene. His keenly crafted works are built of startlingly original movement vocabulary that looks like nothing you've ever seen before. Yet it's the spellbinding manner in which Naharin's dancers serve up his choreographic concoctions that make it all so riveting. Trained in the choreographer's famously sensory, improvisation-based technique—known as Gaga—the Batsheva dancers make themselves utterly available to the movement, implanting the nuances of the choreography deep within their physicalities and exuding a mysterious combination of vulnerability and self-assurance that proves extraordinarily captivating.
For its current two-week engagement at the Joyce Theater, the company is presenting just one work, Naharin's evening-length "Project 5." Created in 2008, the piece is being danced at different performances by alternating all-female and all-male casts. Though billed as a New York premiere, "Project 5" is drawn from earlier Naharin works. While Batsheva's appearances in New York are always highly anticipated events, regular dancegoers may find these "Project 5" performances overly familiar. Though entrancing throughout, the work is only an hour long, and its two longest sections—the quintets "George & Zalman" (2006) and "Black Milk" (1985/1991)—are both contained in "Decadance," another of the choreographer's compilation works, which was seen in New York just a few years ago.
The two shorter portions of "Project 5" are the militant trio "Moshe" (a seemingly political excerpt from "Park," created in 1999), and "B/olero" (an engrossing duet choreographed especially for "Project 5" in 2008). The duet translates the mesmerizing repetitiveness of the well-known Ravel music into repeating phrases of circling movements that are interspersed with sequences of free and abandoned full-body dancing. The result is a harmonious balance between the structured and the untethered, suggesting the interplay between technique and emotion common to many forms of artistic expression.
Particularly for those new to Naharin, "Project 5," alluringly performed by the female cast on opening night, offers a stimulating if somewhat abbreviated introduction to the choreographer's exceptional talent and his enchanting company.

Presented by the Joyce Theater Foundation in association with Batsheva Dance Company
at the Joyce Theater, 175 Eighth Ave., NYC. Sept. 21–Oct. 3. Tue. and Wed., 7:30 p.m.; Thu. and Fri., 8 p.m.; Sat., 2 and 8 p.m.; Sun., 2 and 7:30 p.m. (No performances Sat., Oct. 2, 2 p.m., and Sun., Oct. 3, 7:30 p.m.) (212) 242-0800 or www.joyce.org.