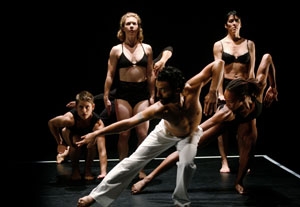 Not an easy evening, as a two-hour program of choreographer Bill T. Jones's bold, weighty work can be an arduous affair, program A of "Body Against Body" is nonetheless a gripping history lesson. The inaugural production of New York Live Arts (the former Dance Theater Workshop reorganized as a collaborative producing venture with the Bill T. Jones/Arnie Zane Dance Company), the program comprises reconstructions of three of Jones' earliest works, choreographed and first performed in the 1970s in collaboration with his on- and off-stage partner, the late Arnie Zane. The two men captivated the postmodern dance world of the time, the towering black Jones dancing with the small, white Zane in audacious works of startling intimacy, intelligence, and political bite.
As performed by the statuesque Talli Jackson and the jockey-size Erick Montes, the program's opening duet, "Monkey Run Road," effectively recalls the striking physical contrasts and opposite movement styles and personal attitudes of Jones and Zane. For those unfamiliar with the roots of Jones' choreographic journey, which were firmly planted in a socially conscious, aesthetically minimalist, internally focused style of dance-theater performance, the piece offers an illuminating rearview mirror. One sees familiar Jones hand gestures and tipped body postures, his affinity for angularity and floor work, and his mastery of repetition, movement manipulation, and sculptural design. The considerable difference in height between Jones and Zane allowed the partners to frequently overlap spatially, working one in front of the other rather than in more-traditional side-by-side configurations, thereby lending an intriguing three-dimensionality to the choreographic design.
The program's closing duet, "Valley Cottage: A Study," provides a less-perfect replication of its originators yet succeeds magnificently as a lesson in the timeless power and continued relevance of works created out of deep and authentic personal investigation combined with astute artistic craft. The manly Jennifer Nugent, in the Zane role, is almost as big and certainly as strong as her partner, Paul Matteson, a charismatic actor-dancer who lacks the technical prowess and catlike agility of Nugent.
To join in the evening's celebratory centerpiece, "Continuous Replay," the company invited an array of guest artists representing some of the downtown dance scene's most esteemed figures. A relentless large ensemble work danced mainly in the nude, it generates abundant energy but has little to say.
Presented by and at New York Live Arts, 219 W. 19th St., NYC. Sept. 16–25. Tue.–Sat., 7:30 p.m.; Sun., 5 p.m. (212) 924-0077 or www.newyorklivearts.org.