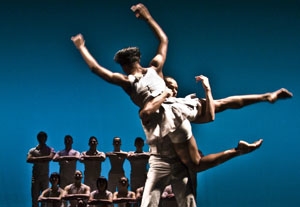 All 15 members of the Cedar Lake Contemporary Ballet are such phenomenal dancers that, when watching the company perform, one is so awestruck by how good they are that it is difficult to focus on any other aspects of the show. Luxuriously funded by Wal-Mart heiress Nancy Laurie, the New York–based troupe attracts the best dancers in the world and currently includes performers from the U.S., Romania, Japan, Portugal, France, and the Netherlands.
Under the artistic direction of Benoit-Swan Pouffer, the company is also committed to showcasing the world's most interesting contemporary choreographers. The troupe kicked off its two-week, two-program season at the Joyce Theater with an evening of three works (Program A) by European choreographers, whose dance-making talents proved worthy of the extraordinary Cedar Lake terps.
The highlight was the New York premiere of Swedish choreographer Alexander Ekman's "Hubbub," a witty satirical commentary on a dancer's need to participate in the action and the critic's need to explain the meaning of it all. As a voiceover delineates exactly what each dancer is doing and thinking, the performers work through a series of group exercises that gradually transforms them into an army of face-painted warriors who delight in the execution of directed actions. Most impressive are the quick, complex sequences of robotic moves, performed with flawless synchronization, sometimes just to the sounds of the dancers' audible inhalations and forced exhalations.
Another New York premiere, Italian choreographer Jacopo Godani's dehumanizing "Unit in Reaction" sent six dancers darting and slithering around to pulsating electronic music. While the women attacked the tight choreographic vocabulary with aggressiveness that exuded anger, the cast's three men—Jon Bond, Jason Kittelberger, and Oscar Ramos—imbued their actions with a graceful strength to ravishing effect.
Completing the program was Norwegian choreographer Jo Strømgren's "Sunday, Again," a badminton-themed piece about the tensions that arise between couples forced to pass leisure time together. Set to Bach and composed of highly original movements, the work features deliciously discordant duets. In one, a woman pulls her partner's head close to her torso only to smack him in the side of his cheek with her pelvis. Lots of rough stuff ensues, but it's so handsomely stylized and magnificently danced that Strømgren's disturbing message gets diluted by the beauty.

Presented by Cedar Lake Contemporary Ballet in association with the Joyce Theater Foundation
at the Joyce Theater, 175 Eighth Ave., NYC. Oct. 26–Nov. 7. Tue. and Wed., 7:30 p.m.; Thu. and Fri., 8 p.m.; Sat., 2 and 8 p.m.; Sun., 2 and 7:30 p.m. (212) 242-0800 or www.joyce.org.