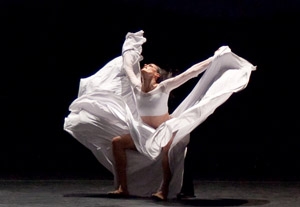 An entire evening of Dwight Rhoden's choreography is exhaustingly monotonous. Even when rendered by the fierce technicians who make up Complexions Contemporary Ballet, the company he co-directs with Desmond Richardson, Rhoden's pieces all look alike, as they are all built out of the same uninventive, furiously energized movement vocabulary. Grounded in ballet technique and sometimes incorporating pointe work, with its abundance of 180-degree extensions, straddle splits, and big lifts with widely splayed legs, Rhoden's choreography exudes a forced physicality, its gymnastic qualities overriding any sense of expressivity or intriguing visual design. The dances feel like chains of unmotivated tasks, which the performers attack with excessive force, imbuing every move with equally enormous importance until, very quickly, it all becomes a wearisome waste of energy.
For the opening night of its two-week engagement at the Joyce Theater, Complexions Contemporary Ballet performed five Rhoden works. Though choreographically undistinguished and largely indistinguishable, the dances were accompanied by a diverse array of stimulating musical selections that in combination with the appeal of the troupe's sexy, supple movers turned what could have been a pointless evening into an enjoyable affair.
The program opener, the New York premiere of "Moon Over Jupiter," is set to a luscious Rachmaninov score, the glorious emotionality of which made the interminable work bearable yet underlined the emptiness of the choreography. Delicious vocal jazz arrangements of beloved standards and scrumptious raw blues accompany the sensual duets of "On Holiday" and the quintet "Moody Booty Blues," respectively. The forgettable pas de deux "Spill" features a wonderfully airy, spare score by Joan Jeanrenaud, and "Rise," in which Rhoden seasons his usual vocabulary with some new themes—jive kicks, jogging, a vibrating flat-hand gesture, and flexed ankles—closed the evening with thrilling U2 music played at rafter-raising volume.


Presented by Complexions Contemporary Ballet, in association with the Joyce Theater Foundation, at the Joyce Theater, 175 Eighth Ave., NYC. Nov. 16–28. Tue. and Wed., 7:30 p.m.; Thu. and Fri., 8 p.m.; Sat., 2 and 8 p.m.; Sun., 2 and 7:30 p.m. (No performance Thu., Nov. 25.) (212) 242-0800 or www.joyce.org.