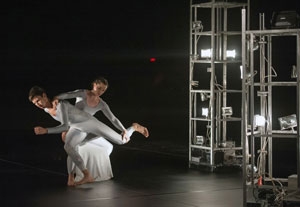 An infinitely interesting 55-minute piece choreographed by the great postmodern-dance innovator Trisha Brown, "Astral Converted" is the perfect performance work for contemporary art fans with a bent for architecture or geometry. Created in 1991, much has been made of its collaborative aspects: its commissioned John Cage score and Robert Rauschenberg's set pieces, metallic towers made of auto parts and equipped with sensors that trigger lighting changes as a result of the dancers' movements. Those elements, however, are extraneous to the essence of the work's attraction, which is completely contained within Brown's engrossing choreography.
(Stephanie Berger)

Performed by nine dancers of the Trisha Brown Dance Company costumed in skin-tight silver and white unitards, the complex choreography is constructed of discrete actions and body shapes that demonstrate an exhaustive array of angular designs. Yet the intent does not feel coldly presentational but exploratory and fluidly human. It's as if the dancers are gently and thoughtfully discovering the rich movement possibilities housed within their many and differently operating joints. Their bodies constantly shift from one level to another, working through changing spatial planes, dimensions, and directions. The visual designs are a flow of surprises and underscored by wise employment of unison movement, the dancers often moving in quartets, threesomes, or duos. In one section long-handled brooms are effectively used as props to initiate movement, to parallel body lines and angles, and to introduce the idea of cantilever support, a concept that reappears in two-body actions throughout the piece.
Brown's spectacular work premiered in a grand outdoor setting, at the foot of the steps leading up to the National Gallery of Art in Washington, D.C., a location that undoubtedly suggested connections between the architecture of the choreography and the larger geometries of our natural and man-made surroundings. The setting for this reconstruction, the immense drill hall of the Park Avenue Armory, is no less fitting or effective. The dancers are illuminated by bright white headlights, while the rest of the vast space is almost pitch black. With the moving bodies appearing as stars amid an illimitable darkness, Brown's choreography hints at the amazing, foundational mathematics of the universe.
Presented by and at Park Avenue Armory, 643 Park Ave., NYC. July 10–14. Tue.–Sat., 7:30 p.m. (212) 933-5812 or www.armoryonpark.org.