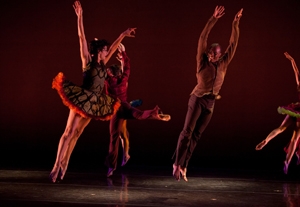 The Latin-flavored, New York-based contemporary ballet troupe Ballet Hispanico is dancing better than ever, displaying a gratifyingly homogeneous look in its ensemble work and a harmonious feel in its movement impulses, technical foundations, and stylistic approach. This is to the credit of artistic director Eduardo Vilaro, who took the reins in 2009 upon the retirement of the 41-year-old company's founding director, Tina Ramirez. Not to Vilaro's credit, however, is the choreography presented on Program A of the two-week, three-program season the troupe is currently offering at the Joyce Theater.
Though the evening opened delectably with the New York premiere of a smart ensemble work choreographed by Annabelle Lopez Ochoa, it nosedived as eight dancers tried desperately to find joy in the performance of an uninspired world premiere by Ronald K. Brown. And just when you thought it couldn't get any worse, the show concluded with an embarrassingly awful piece choreographed by Vilaro—his first for the company—that garnered what might have been the most pathetic applause this typically crowd-pleasing troupe has ever received.
Ochoa's "Nube Blanco" brilliantly subjects the elements of flamenco dance to playful scrutiny and injections from contemporary dance and choreographic relatives. The men merge flamenco's flashy footwork with comic vocalizing, slapstick, and passages of body percussion and stamping that feel borrowed from African-American stepping routines. Exquisitely polished unison performances of traditional Spanish movements frame an aggressive couple wrestling in contemporary-dance language. A "West Side Story" sensibility creeps in as characters clash through Latin dancing. The cunning choreographic kinships are underlined by Diana Ruettiger's stylish span-the-decades costumes. The women wear big, bouncy dresses that undergird black-bra and sheer fabric tops with frilly 1950s-style petticoats. And both men and women are in possession of bright red shoes, which function as flamenco footwear as well as symbolic props. In one scene the dancers wear only one shoe and evolve a sort of lopsided movement lexicon; in another the shoes become telephones or objects used to taunt annoying spouses.
If not for Latin Grammy Award winner Susana Baca's music, performed live by Baca (a vocalist) and a guitar, bass, drums, and violin combo, Brown's "Espiritu Vivo" would be a complete bore. The warm, atmospheric, and pulsating music evokes an inviting Caribbean setting for Brown's repetitious, earthy choreography, a fusion of African and modern dance. Though some excitement is generated as the pace picks up, the choreography is so uninterestingly structured that it feels like watching an African-dance technique class: everything done once to the right, once to left, and repeat.
Yet Vilaro's "Asuka," a celebration of the salsa music of Celia Cruz is even duller. It is devoid of originality and displays a rudimentary level of craftsmanship that wouldn't pass muster in Dance Comp 101.
Presented by the Joyce Theater and Ballet Hispanico at the Joyce Theater, 175 Eighth Ave., NYC. April 17–29. Tue. and Wed., 7:30 p.m.; Thu. and Fri., 8 p.m.; Sat., 2 and 8 p.m.; Sun., 2 and 7:30 p.m. (212) 242-0800 or www.joyce.org.