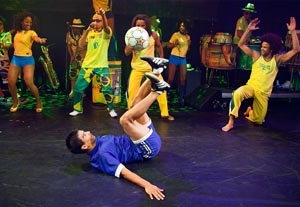 Though presented at the New Victory Theater, "Brazil! Brazil!" is not a kid-specific show, which is not to say that youngsters will not enjoy its flashy, upbeat celebration of Brazilian music, dance, and football. (Remember, football is what the rest of the world calls the sport we know as soccer.)
As the extravaganza is chock full of tasty ingredients, one wishes it had been directed differently. Under the helm of creator-director Toby Gough, the show's discrete components are set forth too quickly and often simultaneously. They compete for our attention rather than receiving focus, context, and time to make rich individual statements. The production's most original aspect is its inclusion of freestyle footballers who delight us with soccer-ball juggling tricks. Respecting the game's no-hands rule, world champion footballer John Farnworth bounces a ball up and down on his head while jumping rope, tosses the ball off the back of his neck, executes a somersault before catching it on the front of his ankle, then lies on his back and spins the ball on the soles of his feet while a partner dive rolls over him. Unfortunately, his main solo is staged as a trio. While Farnworth plays center stage, female dancer Gianne Abbott leaps stunningly through jazz choreography on his left as singer Mickey Beigi entices us with an expressive song on his right.
Driven by electrifying original music by Rhythm Carnival, played live onstage by a five-member combo, Marco Santana's choreography comprises sexy samba solos featuring much shimmying by Abbott and thrilling passages of capoeira, the Brazilian form of martial arts–influenced acrobatic street dance that inspired break dancing. There are also simplistic, overly aerobic group sequences for a male ensemble that feel like Zumba-class routines.
What keeps the production from descending into cheesiness is the sincerity of its concept, exemplified by gorgeous video designed by Trackingprod. Used throughout as transitional material, the video images of Brazilian rivers, rainforest, and urban streets contain people and objects, including a mischievous yellow soccer ball, that reappear onstage. More so than in the director's underdeveloped attempts to trace the roots of Brazilian culture in contrived scenes on stage, it is onscreen—and through a wonderful musical number involving "found" percussion instruments—that we see how the slums of Brazil spawned music, dance, and the elevation of a sport that captivates the world.
Presented by the New 42nd Street, World Stage Productions, and Broadway Asia International, in association with Michael B. Sacks and Carlos Lorent, at the New Victory Theater, 209 W. 42nd St., NYC. Feb. 10–26. Fri., 7 p.m.; Sat., 2 and 7 p.m.; Sun., noon and 5 p.m. (Additional performances Wed., Feb. 22, 2 and 7 p.m.; Thu., Feb. 23, 7 p.m.) (646) 223-3010 or www.newvictory.org.