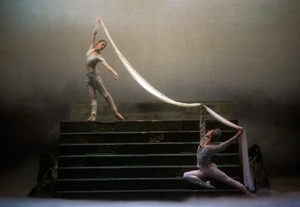 You have to be a real nit-picker to find anything wrong with American Ballet Theatre's lavish production of "La Bayadère." In the exquisite opening-night performance, I was bothered only by a wee timing discrepancy on the part of one member of the troupe's marvelous corps de ballet. During the famous "Kingdom of the Shades" precision dance passage -- in which the women's ensemble trickles onstage one-by-one forming a snaking line with endless repetitions of a simple walking-into-arabesque pattern -- the second dancer in the mesmerizing line-up was always slightly late in lifting her arabesque leg. But how important is that?
Choreographed in 1980 by the legendary ballerina Natalia Makarova (after the original 1877 version by Marius Petipa), the ballet is set in ancient India and tells the tale of Nikiya, a temple dancer in love with the warrior Solor. The Radjah insists that Solor marry the ruler's daughter, Gamzatti, who tricks Nikiya into accepting a basket of flowers that conceals a deadly snake. Nikiya dies from the snake's bite, Solor is grief-stricken, and at his wedding the gods take vengeance, destroying the temple and everyone in it. 
Veronika Part is glorious in the role of Nikiya. Usually a strong, stately, sometimes stiff and dramatically flat performer, as the sensuous Indian dancer Part is both lusciously supple and sympathetically vulnerable. Though cast against type -- or perhaps because of that -- she exudes a newfound liquidity and easy assuredness that dissipates only momentarily during her rigid execution of some tricky turning phrases in Act 2. Her portrayal is enhanced by bare-midriff costumes designed by Theoni V. Aldredge out of soft fabrics, which make Part look less severe and more girlish than usual.
As Solor, Marcelo Gomes engulfs the stage with gorgeous athleticism and enormous emotionality, while Gillian Murphy's Gamzatti is grounded in her technical wizardry and a piercing, yet reserved, dramatic intensity. Yet it's Craig Salstein, in the supporting role of the head fakir, who sets the bar at its lofty height. He opens the evening with a solo of altitudinous leaps done with a jaw-dropping sharpness not usually associated with this yeoman soloist.
Adding immeasurably to the ballet's overall appeal is its melodious, under-rated Ludwig Minkus score, colorfully arranged by John Lanchbery and interpreted with great dynamic contrast under the baton of Charles Barker. 
Presented by American Ballet Theatre, at the Metropolitan Opera House, Broadway at 64th St., NYC. May 22-28. Mon., Thu., and Fri., 7:30 p.m.; Wed., 7:30 p.m.; Sat., 2 and 8 p.m. (212) 362-6000 or www.abt.org.