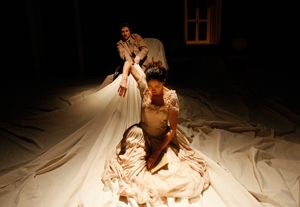 "Last Touch First" is a triumph and proof that great dance is not a young person's game. Choreographed by Jirí Kylián and Michael Schumacher, the absorbing 60-minute theatrical dance work is magnificently performed by Schumacher and former Nederlands Dans Theater members Sabine Kupferberg, Cora Bos-Kroese David Krugel, Václav Kunes, and Elke Schepers. The cast, whose average age is probably somewhere around 45, draws us into this mesmerizing work with a combination of powerful dramatic presence and refined physical skills rarely found in young performers.
Set in a Victorian drawing room—with bulky white dust cloths covering the furniture and the floor—the piece concerns the naughty, erotic, abusive, and playful urges smoldering underneath the manners and morals of the repressed era. Yet the disturbing events of the mysterious narrative and the eerie relationships that develop among the three men and three women, heavily costumed in period dress, are played out in excruciatingly slow motion. The wondrously expressive choreography falls somewhere between dance, gesture, stage business, and pantomime and is executed so slowly that we become almost hypnotized watching it, completely in awe of the performers' abilities. With the exception of a few percussive actions, the choreography has no edges. The phrases don't end; they just gently ease into stillness. There are no opportunities to release, drop, swing, or use momentum of any sort. The dancers are doing highly athletic movements, including overhead lifting, somersaulting over chairs, and engaging in a fistfight while perched on the legs of an upside-down table. Whereas it might be easy to do underwater, the degree of control, strength, and balance required to move in this fashion continuously for an hour while conjuring a character onstage is mind-boggling.
The staging brings Chekhov to mind and contains numerous shrewdly designed tableaux that are not only visually striking but fraught with psychological meaning and emotional intensity. The haunting qualities of the drama are heightened by Kees Tjebbes and Ellen Knops' slippery lighting, which alternately obscures and exposes the characters' secrets. Dirk Haubrich's musical score is spare and irritating: A single piano key is hammered over and over; silences are suddenly interrupted by loud twangs of a string that cause you to start; screechy scraping sounds feel foreboding and grate through your ears and into your psyche. Only performers with acutely developed temporal sensitivity can work together so accurately in the absence of any kind of rhythmic support or musical structure.
Impressively rendered, this magically decelerated work leaves one intrigued with the notion of how time is felt through human experience.
Presented by the Joyce Theater, in association with Holland Dance Festival, at the Joyce Theater, 175 Eighth Ave., NYC. April 10–15. Tue. and Wed., 7:30 p.m.; Thu–Sat., 8 p.m.; Sat. and Sun., 2 p.m. (212) 242-0800 or www.joyce.org.