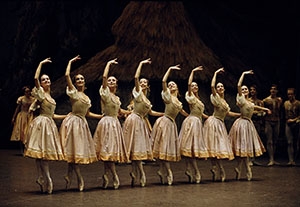 In 1841, at the Paris Opera, the world was introduced to what remains the greatest exemplar of the Romantic aesthetic as manifested in dance: the ballet "Giselle." The work's heartbreaking story concerns the peasant girl of the title, who goes mad and dies upon discovering that she has been tricked by her beloved Albrecht, a nobleman already betrothed. The tale culminates with Giselle, as a ghost, using her love to save Albrecht from being danced to death by the Wilis (more on them later). Though it has become one of the most famous ballets of all time and a staple of the repertoire of virtually every major ballet company in the world, judging from the absolutely enchanting performance of it at this summer's Lincoln Center Festival, Paris Opera Ballet still owns "Giselle."
Not only does the Paris company dare to find humor in the Romantic masterpiece, but its dancers bring a simple, realistic style of acting to the often overwrought mime sequences, making the ballet's feudal-era characters accessible and its silly story believable. But what is most remarkable is that these Parisians have figured out how to persuasively portray a Wili.
The entire second act of "Giselle" takes place in a spooky graveyard inhabited by Wilis, those haunting, winged females who are supposedly ghosts of jilted women, taking their revenge by capturing men and dancing them to death. While ballet audiences have come to accept a beautifully synchronized corps of women in long white tutus dancing formal patterns around a male as representative of these perplexing, otherworldly creatures, the POB's Wilis take on a mysterious wooden quality that is truly transforming. These Wilis actually seem dead, though they dance in frighteningly perfect unison with impeccable form. At the July 14th performance, their magical dancing elicited the wildest ovation of the evening.
Marking its first appearance in New York since 1996, the company displays the distinctively subdued French approach to ballet, emphasizing sculptural aspects of the classical lexicon rather than the linearity and speed prized by Balanchine-influenced companies or the athleticism and drama associated with the Russians. Mostly products of the Paris Opera Ballet School, the company's leads and corps members alike make eloquent use of their neat, precisely positioned, pliant feet and excel at finding the roundness, the three-dimensionality, and the weight (in the peasants' dance) as well as the weightlessness (in the spiritual realm) of the choreography.
Choreographed by Jean Coralli and Jules Perrot and restaged in 1991 by Patrice Bart and Eugene Polyakov (after Marius Petipa's 1887 staging), this production of "Giselle" features rotating casts and is buoyed by the New York City Opera Orchestra's luscious performance of the melodious Adolphe Adam score.
Presented by Paris Opera Ballet as part of the Lincoln Center Festival at the David H. Koch Theater, 20 Lincoln Center Plaza, NYC. July 13–19. Remaining performances: Tue.–Thu., July 17–19, 8 p.m. (212) 721-6500 or www.lincolncenterfestival.org.