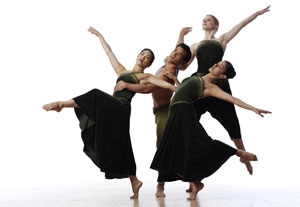 There are glaring differences between the dancing of the Paul Taylor Dance Company's stars—who are magnificent—and those who make up its rank and file. Those differences appear most pronounced in a pure movement piece, such as Taylor's "Brandenburgs." Set to Bach's Brandenburg Concertos #6 and #3, the masterfully choreographed ensemble work opened the company's March 16 performance at the David H. Koch Theater. (The troupe is ensconced there for three weeks, marking its first season ever at Lincoln Center.)
One of the reasons Taylor is considered among the pantheon of modern-dance choreographers is his innovative crafting of compelling works, full of surprises yet built of everyday movements—skips, runs, leaps, falls, turns, jumps—that are magnified by a natural athleticism and innate musicality. That choreography, when performed by the greatest Taylor dancers, communicates the pure, exhilarating joy of moving one's body through space to music. But in this performance of "Brandenburgs," too often the dancers slammed their arms into positions, emphasizing the endpoint of the motion rather than the linear designs of the choreography. Instead of moving through space, they seemed to be racing to position themselves in particular spots or postures. The organic ease with which the body should energize the dancing was rarely in evidence. Percussive qualities were used not to punctuate a phrase but rather as a self-conscious sign of accomplishment, making the dancers at times look like a group of grown-up "competition kids."
The troupe's leading male dancer, the stunning Michael Trusnovec, brings a magisterial grace to his flawless interpretation of Taylor's work and is, for my money, the supreme male modern dancer of his generation. And petite Eran Bugge (who recalls the exuberance of the elfin former Taylor star Mary Cochran) understands how to dance for an audience, yet with the spontaneous abandon that fulfills the choreography rather than the showy, externally motivated quality that is put forth by some of the others. The worst offender is Robert Kleinendorst. Why is he in this top-flight company? His technique is abysmal: His big shoulders are held up under his ears, his back leg doesn't straighten in his grand jetés, it appears he can't arch his back, his feet barely point, everything he does looks labored, and he always seems to be laughing to himself, as if saying, "Look at me; I'm actually doing this!"
Overall, the troupe fared much better in the rest of the evening, dancing and clowning superbly in "Gossamer Gallants," a goofy comedy piece about mating in which the cast is dazzlingly costumed, by Santo Loquasto, as colorful insects. And in the tango-inspired "Piazzolla Caldera," Parisa Khobdeh shone in a dramatic solo turn, while the ensemble was suitably sultry.
Presented by the Paul Taylor Dance Foundation at the David H. Koch Theater, 20 Lincoln Center Plaza, NYC. March 13–April 1. Tue.–Thu., 7 p.m.; Fri. and Sat., 8 p.m.; Sat. and Sun. 3 p.m. (212) 496-0600 or www.ptdc.org.