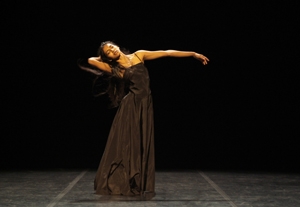 Shantala Shivalingappa is a beguiling dancer. But with its low production values and uneven choreography, "Namasya," her modest 60-minute program of four solos presented at the Joyce Theater, leaves one wanting.
She opens the show with Ushio Amagatsu's "Ibuki (Vital Breath)." A slow, gesture-driven blend of butoh, Indian-dance hand movements, and mime, it serves as an enchanting introduction to Shivalingappa's mesmerizing performance quality. While carving solid, crystalline shapes with her strong, willowy body, she focuses intently on her eloquent hands, never once looking outward. Her fingers speak the language of classical Indian choreography or are employed to create illusions of imaginary objects in the space around her. She appears to be telling a story, yet even though the narrative is unclear, the solo is tremendously satisfying, in part due to Yoichiro Yoshikawa's appealing score of breathy flute sounds, bowed bass strings, and accessible rhythms.
In between numbers, to cover the time Shivalingappa spends changing her costumes—most of which are unremarkable and do little to enhance her dancing—she subjects her audience to video images by Alexandre Castres. Visually redundant, annoyingly edited, and often intentionally blurry, the images of Shivalingappa in traditional Indian attire only illustrate how much less interesting the performer is on screen than she is on stage.
The highlight of the program is the untitled solo that Shivalingappa created with Pina Bausch during a working residency at the iconic choreographer's Tanztheater Wuppertal. With sensual music by Ferran Savall, the dancer costumed in a long spaghetti-straps gown designed by Marion Cito, and sharp dynamic contrasts igniting the choreography, the work is blatantly and winningly influenced by Bausch signatures. An oily ooziness; some sneaky, punctuating jumps; and a sexy energy are mixed into Shivalingappa's usual physical lexicon, enriching her already-penetrating presence.
However, in Shivalingappa's misconstrued evening—desperately in need of an advisory directorial eye—the Bausch solo is followed by "Shift," a piece of the dancer's own creation in which she appears to be an athlete or perhaps a warrior enacting a warm-up ritual in preparation for a competition or battle that never happens. Her movement vocabulary feels like a repeat of much of what she has already demonstrated. But then things get worse.
Shivalingappa closes with the unbearably boring "Smarana." Costumed in black, on a black floor, in front of a black backdrop, in such dim light that her movements are hardly discernible, she kneels with her back to the audience and for a very long time does little more than raise her arms, vibrate her fingers, and make slight shifts to squatting or sitting positions. Set to almost comically twangy classical Indian string music, the piece was choreographed by Savitry Nair, Shivalingappa's mother. Enough said.
Presented by Shantala Shivalingappa, in association with the Joyce Theater Foundation, at the Joyce Theater, 175 Eighth Ave., NYC. June 27–July 1. Wed., 7:30 p.m.; Thu.–Sat., 8 p.m.; Sun., 2 p.m. (212) 242-0800 or www.joyce.org.