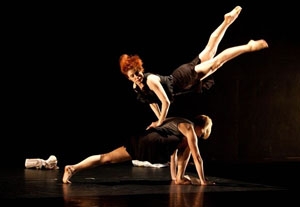 "Salaryman" is a powerful one-act contemporary dance piece to which its choreographer, Takehiro Ueyama, unfortunately has added a cumbersome 30-minute second half. An often moving, sometimes comic, always intelligent and sensitive depiction of a day in the life of a Japanese businessman, the first act of "Salaryman" (a term for corporate workers in Japan) is spectacular.
It opens with clever and ravishing use of an enormous white silk cloth under and encircled within which 10 bodies sleep, nestle, rustle, and ultimately awaken. Ueyama, a Tokyo native who danced for eight years with the Paul Taylor Dance Company before founding his own troupe, Take Dance, in 2005, mixes a harmonious Eastern visual aesthetic with spirited athletic energies. The results consistently please the eye while provoking the mind and soul.
Once awake, a quartet of business-suited young men launches into the episodic work's second and finest scene, "The Game," an exciting depiction of corporate politics. Chock full of aggressive acrobatics and fierce games of one-upmanship, the startlingly fresh movement vocabulary is built of a strong fusion of discrete elements imaginatively drawn from different movement styles. Establishing their turf, the men plant their legs firmly in classical ballet's turned-out fifth position, dig their hands casually into their pants pockets, and then toss their heads back like racehorses raring to go. Almost imperceptibly, and without growing any less vigorous, the choreography shifts from competitive to collaborative endeavors as Ueyama pays tribute to Japanese communal values.
One is repeatedly struck by Ueyama's originality as the act progresses through a series of scenes all based on familiar concepts and employing clichéd props. There's the symbolic metronome ticking, a tender pas de deux involving an umbrella, amusing scenes of commuters jammed together on subway trains, a steamy visit to a bordello, and the dehumanized individual's tragic finale. But in each instance Ueyama makes something new, authentic, and captivating out of what seems like a shopworn idea.
The show's superfluous second half comprises unmemorable dances and a film of underwater swimming, ostensibly a reference to the devastating tsunami that hit Japan during the creation of the work.
"Salaryman" is given a solid performance by Ueyama's 11-member company of technically secure dancers, especially John Eirich, who is outstanding in both comic and passionate solo turns. With the exception of the dynamic redhead Marie Zvosec, the ensemble's alluring male dancers outshine its bland but capable female contingent.

Presented by Take Dance at Baruch Performing Arts Center's Nagelberg Theater, 55 Lexington Ave., NYC. Feb. 8–11. Wed.–Sat., 7:30 p.m. (646) 312-5073 or www.baruch.cuny.edu.