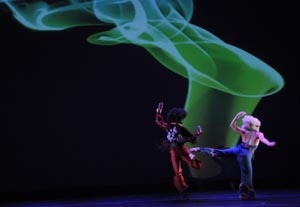 The fiercely funky music of Sly & the Family Stone is great to dance to. But invigorating dance music does not necessarily inspire compelling choreography. The 55-minute dance piece "Prophets of Funk," set to a collection of the group's recordings from the 1960s and 1970s, is undoubtedly more fun to perform than to watch.
Choreographed by David Dorfman, a brainy creator of provocative, often political contemporary dance works, the piece vividly evokes the sounds and sensibilities of a revolutionary era. But the music—with its domineering beat and relentlessly electrifying energy—cages Dorfman's choreographic creativity. It locks him into a wild, "let it all hang out" movement quality, repetitively accented rhythms, and the vernacular style and steps of the period: furious little kicks, overhead punches, snaking rib-cage actions, and sexy pelvic circles.
While Dorfman does soup up the funk moves with technical dance steps—such as stag leaps, pirouettes, dive rolls, and sweeping lifts—the choreography grows most interesting in the sections not fueled by the music. The members of David Dorfman Dance, the work's nine-member cast, are terrific actors as well as dancers, and the highlight of the evening is Kyle Abraham's riotous comic turn in a text-driven scene. He repeatedly asks someone to demonstrate a movement and then adopts it with ridiculous enthusiasm, declaring, "That's my step" in an increasingly hilarious running gag.
The work is appealingly costumed in late-hippie fashions by Amanda Bujak and features entrancing psychedelic video projections designed by Jacob Pinholster. Images of lime green curls of smoke, black portraits of Sly, and pinkish designs that look like organisms viewed under a microscope drift across the background. Dorfman frames the work by appearing onstage at the beginning, middle, and end as a pudgy dork—in platform shoes, a too-tight jacket, and tweed cap—trying to dance funky
Overall, the work is not much more than the choreographer's tribute to some of the favorite music of his college years. It contains hints, however, of Dorfman's political inclinations: references to the Black Power raised fist, cartoonish suggestions of white appropriation of black style, and a fascinating excerpt from a Dick Cavett interview with Stone. One wonders if Dorfman might have choreographed a more meaning-laden work to a differently assembled score.
Presented by David Dorfman Dance, in association with the Joyce Theater Foundation, at the Joyce Theater, 175 Eighth Ave., NYC. Jan. 24–29. Tue. and Wed., 7:30 p.m.; Thu. and Sat., 8 p.m., Sun., 2 p.m. (212) 242-0800 or www.joyce.org.