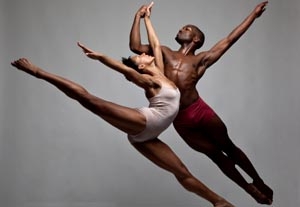 Celebrating its 30th anniversary, Elisa Monte Dance launched a weeklong season at the Joyce Theater with an opening-night gala featuring four works choreographed by Monte over a span of 32 years.
The evening's finest piece was the oldest, "Treading," a gem of a duet created in 1979, when Monte was still a member of the Martha Graham Dance Company and had not yet formed her own troupe. Monte's first choreographic effort, the beguiling work is set to a Steve Reich score and was made at a time when modern-dance choreographers were just beginning to experiment with how to make dances to minimalist music.
In this fluidly constructed duet, Monte succeeds in establishing a mesmerizing choreographic arc that fits snugly within yet does not get bogged down by the music's repetitiveness. The work was brilliantly performed by guest artists Elizabeth Roxas, a former principal dancer with the Alvin Ailey American Dance Theater, and Matthew Rushing, the AAADT's current rehearsal director.
Also choreographically compelling is the newest work on the program, the premiere of "Vanishing Languages," an ensemble dance inspired by the disappearance of indigenous forms of communication. Performed against a backdrop resembling cave drawings and then a painting (by Philip Tsiaras) composed of abstracted letters and numerals, the dance divides the cast into two human tribes who physically "dialogue" with each other. They begin by taking turns standing still, "listening." They copy or share one another's movements and then, in a section suggestive of today's Internet conversations, fan out into their own individualized spaces and all "talk" at the same time.
While Monte's movement is always admirably organic, earthy, and sensual, in the program's two middle-period pieces—"White Dragon" (1985) and "Tears Rolling" (1997)—her choreography proves unengaging. The vocabulary looks dated, the rhythms simplistic, and the spatial patterns predictable.
Emotionally, however, both works deliver affecting results, due in large part to guest artists. Former company members Tiffany Rea-Fisher and Matthew Fisher returned to perform a central pas de deux in the exhaustive, martial arts–flavored "White Dragon." And the distinguished dancers Sarita Allen, formerly of the AAADT, and Francesca Harper, a veteran of numerous Broadway musicals, lent their star quality to the melodramatic "Tears Rolling."
Presented by Elisa Monte Dance, in association with the Joyce Theater Foundation, at the Joyce Theater, 175 Eighth Ave., NYC. March 1–6. Tue., 7 p.m.; Wed., 7:30 p.m.; Thu. and Fri., 8 p.m.; Sat., 2 and 8 p.m.; Sun., 2 and 7:30 p.m. (212) 242-0800 or www.joyce.org .