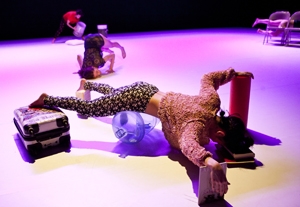 In a shared evening of world premieres of contemporary dance pieces, Gallim Dance offered a stunning performance of its artistic director Andrea Miller's intriguing "For Glenn Gould," while the talented performers of Sidra Bell Dance New York made all they could of Sidra Bell's putrid "Pool."
A Salt Lake City native, Juilliard graduate, and former member of Israel's Batsheva Dance Company, Miller took two contrasting Glenn Gould recordings of Bach's "Goldberg Variations" as inspiration for her beguiling work about the creative process. Though program notes describe the piece as a portrait of an artist in transition, Miller's choreography is more expressive of the ongoing struggle to develop one's creative voice than it is of one specific period of change. Perhaps because it is an ensemble work, with each performer taking a turn at both a solo dance segment and the onstage construction of a personal sculpture built of found objects, the piece seems primarily concerned with the variety of procedures individuals bring to the making of art.
The influence of Batsheva's illustrious choreographer Ohad Naharin on Miller's work is evident in the intensely present performance style of her dancers, the startling originality of her choreographic vocabulary, and her overt use of precisely organized compositional elements. Yet Miller also exhibits an interest in creating traditionally fluid movement phrases and an affinity for stage props, which she employs in great quantity and as logical extensions of the dancers' physical statements. But while "For Glenn Gould" captivates from beginning to end, the choreographer fails to finish the work with a gratifying sense of completion. It's one of those dance pieces that doesn't really end; it just stops.
No mater how awful the experience of drowning may be, it can't be that much worse than having to sit through Bell's "Pool," a deadening ensemble piece inspired by a near-drowning experience. The work evokes a freakish, punk aesthetic, with garishly made-up performers doing ugly repetitive movements to relentless rhythms and disturbing buzzing noises. Bell owes a tremendous debt to her company of seven strong dancers, whose beautiful, committed performances make Bell's choreography seem much more interesting than it really is.
Presented by Dance Theater Workshop, in association with Judith Zarin through the David R. White Producers' Circle, at Dance Theater Workshop, 219 W. 19th St., NYC. Jan. 18–22. Tue.–Sat., 7:30 p.m. (212) 924-0077 or www.dancetheaterworkshop.org.