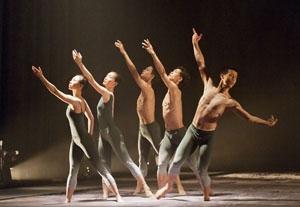 "Haze," an ultimately unsatisfying 70-minute dance piece, is nevertheless mesmerizing, beautiful, and fun for the first half-hour. Performed by the Beijing Dance Theater in its U.S. debut and choreographed by the troupe's artistic director, Wang Yuanyuan, the work is danced on a spongy mat that sits within a knee-high rectangular wooden frame and covers the entire stage floor. As the dancers step on the mat their feet sink down, as if they are walking on soft sand. When they jump, there's a bouncy rebound effect, and when they try to balance on one leg, a sense of precariousness pervades.
The piece begins with slow controlled movements—glorious leg extensions, with elegantly spiraled spines and classically shaped arm positions—which the cast of 11 solidly trained dancers (three women and eight men) performs with polish. The music, by Henryk Górecki and Biosphere, is densely textured, rich in emotion, and full of sweeping melodies, bringing an emotionally affecting quality that the unadorned choreography and stark visual design might not otherwise evoke.
As the piece progresses, the dancers' movements grow more adventurous. Watching them belly-flop onto the mat or run and dive into leaps that flow into lively rolls along the springy surface is an absolute delight. Even though the choreography is extremely repetitious and the movement vocabulary limited, the actions are so kinetically pleasing and the body lines so beautifully drawn that one doesn't mind watching the same thing over and over again. That is, for a while.
Eventually, the overuse of familiar Graham-influenced contemporary ballet movements grows tedious. Despite the stimulating music and an intriguing stone-wall backdrop that looks like it should have an ancient cave painting on it (designed by Tan Shaoyuan), before reaching the halfway point the work loses its attraction and never regains it.
After savoring the temporary delights of "Haze," one comes away with nothing of larger relevance or deeper meaning. According to program notes, the choreography is a response to the world's current economic and environmental crises. But the dance creates such an otherworldly milieu that we don't for a moment connect it to our everyday lives. The barren, sandy setting looks more like a lunar landscape than a city skyline, and the dancers' bouncy movements resemble Neil Armstrong and Buzz Aldrin at play on the moon rather than anything happening on Earth today.
Presented by Brooklyn Academy of Music as part of BAM 2011 Next Wave Festival at BAM Harvey Theater, 651 Fulton St., Brooklyn, N.Y. Oct. 19–22. Wed.–Sat., 7:30 p.m. (718) 636-4100 or www.bam.org.