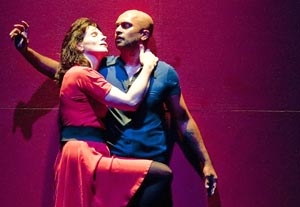 The chance to witness movie star Juliette Binoche dancing live onstage may be the drawing card, but the real satisfaction of "In-I" comes from seeing the phenomenal British dancer-choreographer Akram Khan dart about in his snappy signature blend of classical Indian dance and contemporary movement. Khan makes thrilling use of speed and weight, fashioning sleek phrases of short segmented actions that look spliced rather than woven together. He'll launch a sequence with lightning-fast attack, letting a rounded arm movement swipe over his head, evolve into a tangled web of body circlings, and then drop heavily into dramatically linear floor work.
An evening-length dance-theater duet directed and performed by Khan and Binoche, "In-I" invites the duo to stretch into new modes of expression; Khan essays acting, with middling results, and Binoche makes a noble if ultimately unpersuasive effort at dancing. The spoken acting work consists mainly of two individual monologues: Khan's flat telling of an enlightening episode in a mosque that gets exciting only when he punctuates the final moments with terpsichorean gesturing, and Binoche's breathtaking narrative of the near-deadly demise of a romance, which she delivers positioned in a striking image, hanging midair, seemingly plastered against a huge wall that with the ever-changing colors of light shined upon it serves as the work's alluring set (designed by Anish Kapoor).
The dancing in "In-I" unfortunately mirrors the work's tired story of a woman chasing after a man who has little interest in making an emotional commitment to her. For much of the choreography—save some too-brief solo bits by Khan—Binoche works doggedly to keep up with her partner's fast maneuvering and inconsiderate partnering. Watching her struggle grows tiresome, and the whole endeavor eventually feels like an exercise that was probably more gratifying for the performers than the audience. The most successful scene in the show is a comic morning-after vignette in which the frustrating incompatibilities of a couple who just spent the night together for the first time are marvelously depicted through pantomime—a middle-ground form of expression in which Binoche and Khan meet comfortably and mine their distinct talents.
Presented by Brooklyn Academy of Music at BAM Harvey Theater, 651 Fulton St
.,
Brooklyn, NYC. Sept. 15
–
26. Tue
.–
Sat
.,
7:30 p.m
.;
Sun
.,
3 p.m
. (
718
)
636-4100 or www. bam.org
.