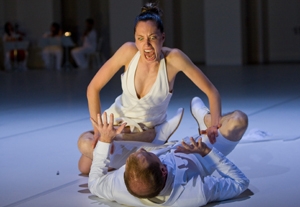 Experimental choreographer John Jasperse's latest offering, "Truth, Revised Histories, Wishful Thinking, and Flat Out Lies," consists of about 30 minutes of captivating choreographic material prolonged into a sluggish 80-minute work, presented in two acts, with a 20-minute intermission. Being given its New York premiere at the Joyce Theater this week, the piece is performed by Jasperse and four engaging dancers—Neal Beasley, Eleanor Hullihan, Erin Cornell, and Kayvon Pourazar—who are credited as choreographic collaborators.
The work packs all of its smart fun and stylish sexuality into the first act. Gorgeously costumed in glittering black mini-dresses for the women and shiny gold vests and shorts for the men (designed by Jasperse and Deanna Berg MacLean), four dancers begin the piece with a luscious fluidity, moving independently through phrases driven by curlicuing arms and erotic hip lifts. The quartet's dancing is interrupted as Jasperse positions himself and a microphone stand center stage and—in the evening's most entertaining episode—proceeds to execute a series of flawed pirouettes interspersed with elaborate analytical commentary on his mistakes. Anyone who has ever taught ballet technique classes will be in stitches.
As the piece continues, the choreography explores notions of human struggle, seduction, illusion, and trickery in extended sequences, all of which begin enthrallingly but then go on much too long. Jasperse performs some cleverly comic sleight-of-hand with a tiny ball. A sensual jazz dance, for which the performers strip down to panties and dance belts, is followed by a cartoonish pantomimed gun battle. Despite its diverse moods, there is a unity to the work's physical language. Jasperse sets up intriguing relationships among the dancers' bodies and constructs choreography with a strong connective thread and few edges or pauses, impelled by a sense of drawing in space, as opposed to moving to a musical beat.
Unfortunately, the work's second act is a letdown. An onstage string quartet plays an irritating original score, composed by Hahn Rowe, while the dancers do nothing more interesting than engage in a slow-motion wrestling match (the highlight of the act); repeat tired-looking choreography with a heavy, lethargic energy; and sit for an interminable period of time with white doilies plopped atop their heads.
Presented by the Joyce Theater Foundation in association with John Jasperse Company/Thin Man Dance at the Joyce Theater, 175 Eighth Ave., NYC. June 16–19. Wed., 7:30 p.m.; Thu. and Fri., 8 p.m.; Sat., 2 and 8 p.m. (212) 242-0800 or www.joyce.org.