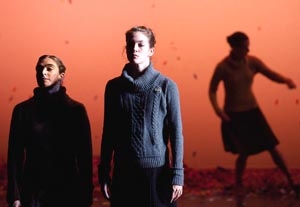 Choreographers Kate Weare and Monica Bill Barnes electrified a standing-room-only crowd at the Joyce Theater with their shared evening of two superb contemporary dance works: the world premiere of Weare's absorbing quartet "Bright Land" and a reworking of Barnes' jocular 2009 quartet "Another Parade."
The heartbeat of Weare's piece is its musical score, a scrumptious assortment of foot-stomping bluegrass and traditional American folk songs performed live on stage by the Crooked Jades, an acclaimed San Francisco–based string band. Weare's dynamic contemporary movement vocabulary reflects the punchy rhythms and propulsive energies of the score, though not its folksy style. The choreography has a sleek, sophisticated look, with lots of percussively accented moves and long holds in tensed positions, which underline its strong emotional content. Shedding layers of their clothing as the piece progresses, their movements growing less restrained and their relationships closer, the dancers seem to be illustrating a breaking away of sorts, perhaps from binding cultural traditions they have inherited. The work ends strangely, however, with the dancers retreating to the background as the musicians come forth and perform a rousing religious number in what feels like a Bible-pounding finale.
Barnes' work is a witty parody of the many different things performers do on stage to engage an audience. Deliberately untheatrically costumed by Kelly Hanson in dowdy pleated skirts and frumpy turtleneck sweaters, the four dancers attempt every conceivable mode of entertainment. They overwork to impress us with feats of strength performed to highbrow Bach, seduce us with sexy moves danced to James Brown, charm us with innocuous aerobic choreography set to a Broadway show tune, and ultimately come out into the house and enlist some brave souls in audience participation. Built mainly of symbolic actions, poses, gestures, mugging, and miming, the work contains little full-out dancing, yet it makes a pungent choreographic statement about human urges and the need to perform.
Presented by Kate Weare Company and Monica Bill Barnes & Company in association with the Joyce Theater at the Joyce Theater, 175 Eighth Ave
.,
NYC. Aug. 10
–
14. Tue
.,
7:30 p.m
.;
Thu
.,
8 p.m
.;
Sat
.,
2 and 8 p.m
. (
212
)
242-0800 or www.joyce.org
.