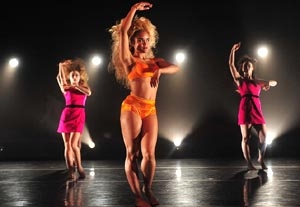 Well known as one of the most fun-loving choreographers on the downtown dance scene, Larry Keigwin shows off his talent to amuse during the opening half of the program, in his company's first-ever solo week of performances at the Joyce Theater.
Keigwin + Company starts by racing with squeaky clean precision through Keigwin's comedic "Caffeinated," a hyper ensemble work illustrating the effects of obsessive coffee drinking. With its rapid sequences of power walking, ballet, and aerobics-class moves, plus frenetic everyday actions, it is the kind of piece that could easily degenerate into a chaotic mess if not danced with the polish brought by Keigwin's perky terps.
The show continues with the tickling "Mattress Suite," co-choreographed by Keigwin and Nicole Wolcott, who embody the anxieties of a newlywed couple unable to consummate their marriage. While the bedroom antics are both hilarious and poignant, the suite needs a more coherent ending. Wolcott's sensual closing solo performed against an upright mattress feels unrelated to the narrative suggested by the choreography's striking combination of startling gymnastics and expressive modern dance.
In the second half of the evening, Keigwin tries to demonstrate that he can manufacture dances of a serious vein. He succeeds admirably with the world premiere of the quintet "Bird Watching," collaboratively choreographed by Keigwin and the company, but falls short of the mark with his "Runaway."
Set to a yummy Haydn symphony and performed under an extravagant chandelier, the quintet imbues Keigwin's bouncy contemporary movement vocabulary with a mannered air of affectation. Stunningly costumed in modernistic bejeweled black tutus (by Fritz Masten), the dancers take on the familiar qualities of ballet swans, as the choreography borrows liberally from the classical lexicon and sprinkles in fussy preening moves. A smartly selected fusion of contrasting kinetics, "Bird Watching" makes a cunning statement about the silliness of fixating on prettiness.
In "Runaway," the cast parades fashion model–style across the stage and up and down the aisles of the theater, their brisk walking patterns regularly exploding into bursts of free runs and leaps. At first the juxtaposition between the movements of the businesslike models and their unbridled alter egos proves engaging, but as the piece progresses, the choreography gets stuck in this back-and-forth mode, which grows tiresome to watch and feels devoid of deeper meaning.
Presented by Keigwin
+
Company in association with the Joyce Theater Foundation at the Joyce Theater, 175 Eighth Ave
.,
NYC. March 16
–
21. Tue. and Wed
.,
7:30 p.m
.;
Thu
.–
Sat
.,
8 p.m
.;
Sun
.,
2 p.m
. (
212
)
242-0800 or joyce.org
.