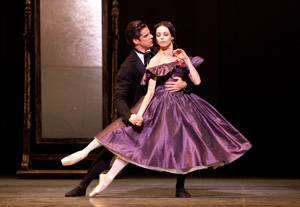 Why has it taken until now for
American Ballet Theatre
to mount its first presentation of the splendid 1978 story ballet "Lady of the Camellias"? An unabashedly emotional ballet—the kind not often created anymore—it is perfectly suited to ABT's powerhouse roster of dramatic dancers. Based on the Alexandre Dumas novel that inspired both Verdi's opera "La Traviata" and the Greta Garbo film "Camille," the ballet is choreographed by Milwaukee-born John Neumeier, who, since 1973, has been director and chief choreographer of Germany's Hamburg Ballet.
"Lady of the Camellias" is a ballet for theater lovers, for those who revel in story and characters and may have little interest in pure movement pieces. Employing the framing device of an auction of the deceased heroine's belongings, the ballet tells its tale of the selfless Parisian courtesan via flashbacks. 
Neumeier cunningly eases viewers into the stylized world of balletic expression through a prologue that feels like straight theater. Heavily costumed, amid a realistic 19th-century set designed by Jurgen Rose, figures proceed in silence through staged actions that establish individual characters and their relationships to one another. Music is gradually introduced by way of an auction attendee who tests a piano that is among the items for sale. The scene shifts to a theater entranceway, with Marguerite, the title courtesan, about to attend a performance. Here Neumeier adds pointe work to the mix. Yet as the women walk haughtily up on their toes, their movements feel motivated more by their snooty personalities than by ballet convention. When the curtain ascends on the show-within-the-show, it reveals a ballet performance. And as Marguerite realizes how closely the ballet-within-the-ballet parallels her own life, Neumeier's storytelling language organically transforms into full-fledged classical ballet. 
Set to stirring Chopin music, Neumeier's choreography is built of expressive, full-bodied movements and striking ensemble arrangements. While occasionally overwrought, it is never dramatically dishonest or unnecessarily showy.
In the leading role, Diana Vishneva bewitchingly captures the coy, frisky aspects of her character and proves equally adept at playing her tragic moments. As her lover, Marcelo Gomes is pure perfection. And despite some ragged lifts and solo turns by party guests at the top of Act 2, all of the supporting and ensemble dancers proffer persuasive, character-driven performances. 
Presented by American Ballet Theatre at the Metropolitan Opera House, Broadway (between West 64th and 65th streets), NYC. Remaining performances: May 27, 7:30 p.m.; June 4, 8 p.m.; June 5, 2 and 8 p.m.; and June 7, 7:30 p.m. (212) 362-6000 or
www.abt.org
.