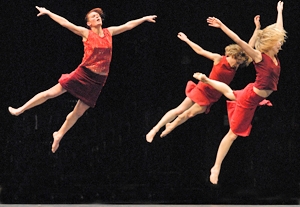 Despite its name, France's Lyon Opera Ballet is proffering a full evening of choreography that abounds in modern-dance sensibilities, with nary a pointe shoe in sight. But this is good news, part of a positive new trend.
Born out of a rebellious spirit that prized continual inventiveness, modern dance is now more than 100 years old and possessed of a canon of classics that modern companies seem conflicted about performing for today's audiences. The ballet world, however, with its reverence for tradition and dearth of fresh choreographic talent, seems eager to take on modern-dance masterpieces. As the classically trained troupe from Lyon so beautifully illustrates, the technical strength of ballet dancers, properly coached in contemporary styles, combined with the bright-eyed quality that comes from embodying unfamiliar vocabulary may be exactly the right formula for compelling re-creations of valued modern dances.
Launching the evening with a crystalline rendering of Merce Cunningham's 1991 jewel "Beach Birds," the company brought a warmth and subtle sense of wonder to the piece's postmodern formalism. More literal than many Cunningham works, the dance sports strikingly designed body configurations and stage compositions that do not appear inspired by avian movement (with the exception of one thematic vibrating leg action). Rather, we feel we are watching classic Cunningham vocabulary performed by birds. Marsha Skinner's costumes are ingenious: white unitards topped by a band of black that completely covers the arms and hands, making them look winglike. But it is largely the increased use of head movements—both independently and as extensions of body tilts or turns—that accounts for the magical birdlike effect.
Following Dorothée Delabie and Amandine Francois' luscious performance of William Forsythe's uninterestingly mechanical 1996 duet "Duo," the program closed with Maguy Marin's "Grosse Fugue," a clever 2001 quartet set to a fierce Beethoven score. While the dance begins with furious pedestrian moves that match the aggressiveness of the music, as the vocabulary evolves it takes on more-refined form, demonstrating how the everyday transforms into artistic expression. Eventually, the dancers stop moving, exhausted. They want the performance to end, but the Beethoven plays on ferociously, forcing them back to work. Making art can really be a chore.

Presented by the Joyce Theater Foundation at the Joyce Theater, 175 Eighth Ave., NYC. March 9–14. Tue. and Sun, 7:30 p.m.; Thu.–Sat., 8 p.m.; Sat. and Sun., 2 p.m. (212) 242-0800 or www.joyce.org.