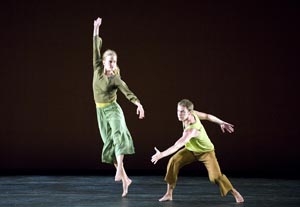 The Mark Morris Dance Group is a motley assembly of rather pedestrian dancers—in the most pleasant sense of that image. They're like a group of diverse neighbors who might populate a big-city apartment building. Not a terribly stunning group, the women exhibit adequate strength and clarity, while many of the men are technically weak. But no matter. At an MMDG performance, the main event is the choreography—or more specifically how that ingeniously devised Mark Morris choreography weds to music. And the music for the company's appearances at Lincoln Center's Mostly Mozart festival this week is sublime: cellist Yo-Yo Ma and pianist Emanuel Ax in live performances of Beethoven, Ives, and Schumann.
It's in the program's opening and closing works—the New York premiere of "Visitation" (2009) and "V" (2001)—that Morris' extraordinary talent for arranging happy movement-music marriages is most evident. In the first piece, with his signature irreverence, humor, and a vocabulary of simple walks, runs, leans, touches, and everyday shapes, he concocts highly structured choreographic statements that feel spontaneously arranged while underlining the rhythms, melodic lines, accents, and energies of the music. If it's not heard in the score, it's not seen in the dance. As Morris' spare choreography is not visually striking, one wonders if it would have much impact at all if divorced from its musical mates. The most captivating sequences in "V"—a formalistic exploration of V shapes—involve rows of dancers crawling across the stage on hands and feet with long, low lunges. The bare actions take on enormous power but only as they reflect the creeping movement of the music.
The program's centerpiece, the New York premiere of "Empire Garden" (2009), exudes an air of vaudevillian silliness, incorporating shoulder shimmies, duck walks, and airy gestures that wear thin from excessive repetition. Costumed in brightly colored uniforms that look like they belong to marching band members or courtiers from one of those fictional Viennese operetta monarchies, the dancers get stuck in a playful mode. The score, however, moves though a wide range of moods that Morris, while adhering to the music's elemental intricacies, seems to ignore.
Presented by Lincoln Center as part of Mostly Mozartat the Rose Theater, 33 W. 60th St
.,
11th floor, NYC
.
Aug. 19
–
22. Wed
.–
Fri
.,
7:30 p.m
.;
Sat
.,
3 p.m
.
(
212
)
721-6500 or www.lincolncenter.org
.