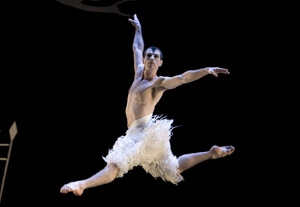 "Matthew Bourne's Swan Lake" is not a pretty, sentimental ballet; it's powerful, hard-edged theater. Ingeniously directed and choreographed by the U.K.'s Matthew Bourne, and supremely well-performed by his London-based dance-theater company, New Adventures, this updated contemporary-dance version of the 19th-century ballet classic is rich in serious emotional content and sharp satirical detail. Though the story is told completely through dance and is set to the familiar Tchaikovsky score, the work is predominantly character-driven and relies heavily on the acting talents of its star performers.
The core of the piece is its heartrending unveiling of the inner life of a young prince, traumatized by lack of affection from his icy mother, his stifling royal responsibilities, and a tumultuous romantic relationship with a seductive swan, who also takes human form as a bewitching male stranger. Tagged "the gay 'Swan Lake' " when first seen in New York, on Broadway in 1998, the work not only casts a male figure as the prince's swan/stranger love interest but also surrounds the couple with an entire corps de ballet of male swans. It is their presence—big, bare-chested men who bound about the space with bold angular leaps and slicing arm actions—that gives the piece its startlingly real aesthetic. These swans are not dainty, fanciful creatures; they are strong and cruel and will hiss at you if you get too close.
Despite its disturbing psychological themes, the production opens with a hilarious sequence of scenes that travel from the prince's bedroom to an opera house to a seedy nightclub, smartly spoofing everything along the way, from the British class system to Romantic ballet, "mod" dancing, and cell phones. Bourne's fluid, intricately designed staging is so densely and meaningfully constructed that enormous amounts of social commentary as well as parodic amusement are proffered throughout the evening. His choreographic vocabulary is earthy, gestural, unadorned, and drawn with great dramatic clarity.
While Dominic North proved utterly endearing as the prince, and Jonathan Ollivier sizzled as his seducer, equally alluring were the show's two leading ladies. With her spot-on comic timing, Madelaine Brennan was hysterical as the prince's tacky girlfriend, and Nina Goldman portrayed the unloving queen with an authentic regality that lent a sympathetic dimension to what could have been a merely villainous character.

Presented by New York City Center, Sadler's Wells Theater London, and Back Row Productions at New York City Center, 131 W. 55th St., NYC. Oct. 17–Nov. 7. Tue. and Wed., 7:30 p.m.; Thu. and Fri., 8 p.m.; Sat., 2 and 8 p.m.; Sun., 2 and 7:30 p.m. (Sun., Nov. 7, 3 p.m. only.) (212) 581-1212 or www.nycitycenter.org.