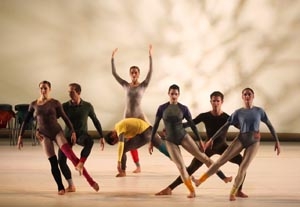 If you, like many readers, find it impossible to get through even a few pages of James Joyce's virtually incomprehensible "Finnegans Wake," yet you want to delight in the comic allusions, entertaining word games, and magnificent inventiveness that literary scholars claim the book offers, then "Roaratorio," a 1983 dance piece choreographed by the late Merce Cunningham, is your solution. Presented on the opening night of the Merce Cunningham Dance Company's four-performance run at BAM, the energetic 60-minute work is set to John Cage's complex sound score "Roaratorio, An Irish Circus on Finnegans Wake," inspired by the befuddling Joycean classic.
The cluttered Cage score contains nonsense syllables, natural noises, a baby's crying, engine sounds, snippets of Irish folk songs, and recognizable word phrases here and there. Listening to Cage's multilayered musical mess with a discerning ear can yield the same kind of gratifying fun a reader might get from unearthing the pleasures hidden within the dense language of Joyce's book. And you can do so while simultaneously feasting your eyes on Cunningham's ensnaring dance, built of off-kilter body shapes, choppy rhythms, unpredictable movement dynamics, and geometric spatial patterns, none of which, in typical Cage-Cunningham fashion, bear any obvious or single relationship to the accompanying sounds. Cunningham's streamlined, nakedly technical, angular choreography forms the perfect visual antidote to Cage's musical mush.
Neatly costumed in gray unitards, each differently accented with a bold-colored T-shirt, tank top, single leg warmer, sock, or pair of pants or shorts, the work's 14 dancers give polished interpretation to Cunningham's challenging technique. And it is for this reason that the performance takes on a special appeal and historic significance. As no one knows if or how the Cunningham technique will be carried into the future of contemporary dance, the chance to see it performed, one last time, by dancers personally trained by Cunningham, is indisputably important.
When the esteemed, iconoclastic choreographer died in 2009, it was decided that his company would make one final two-year world tour—the Legacy Tour—of which the BAM performances are a part. In its remaining evenings at BAM, the troupe will present selected Cunningham pieces dating from 1968 through 2003. The company will make its farewell performance on Dec. 31 at the Park Avenue Armory in New York City and will officially disband at the end of that show.
Presented by the Brooklyn Academy of Music as part of the Next Wave Festival at BAM Howard Gilman Opera House, 30 Lafayette Ave., Brooklyn, N.Y. Dec. 7–10. Wed.–Sat., 7:30 p.m. (718) 636-4100 or www.bam.org.