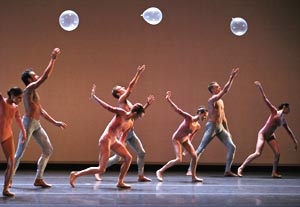 The opening-night performance of Morphoses/The Wheeldon Company's third annual season at New York City Center offered the chance to judge Christopher Wheeldon more as an artistic director than as a choreographer. And a savvy helmsman he proved to be.
The evening included only one piece of Wheeldon's choreography, the delightful "Commedia," a 2008 ensemble work that is more pleasing the second time around. With its commedia dell'arte–style set and costumes, the piece sets up theatrical expectations that are not fulfilled. But once you know not to expect comedic action, you can better appreciate the work's wittiness as a pure-movement neoclassical ballet.
Sharply attuned to the entertainment sensibilities of contemporary audiences, Wheeldon assembled a program that many young people today would be very comfortable attending. His unassuming pre-show speech provided easy-to-understand historical context for the ballets, while the extensive use of reality TV–like film footage introducing each work surely made any artistic dance–fearing couch potato feel right at home. Even the show's overture, played live from the pit, featured real-time video images of the conductor and musicians projected large on stage.
Wheeldon's choice of ballets by guest choreographers also displayed acute sensitivity to new-to-dance audiences. Alexei Ratmansky's "Boléro," a slyly parodic sextet set to the familiar Ravel score, has the dancers sporting a large numeral on their chests, certainly a reassuring sight to those whose interest in dance springs from the popular television competition shows. Lightfoot León's "Softly As I Leave You," a stunningly inventive duet involving a frightening coffinlike wooden box, is so fiercely emotional that its impact is universally chilling. Tim Harbour's dreamy ensemble piece "Leaving Songs" lets light, wispy movement blur beautifully in the concocting of a mesmerizing unreality that could be underwater, a far-off galaxy, or, just as easily, cyberspace.
The evening was enchantingly performed by Wheeldon's 10-member pickup troupe of world-class dancers, whose varying styles imbued the proceedings with an appealingly subtle diversity.
Presented by and at New York City Center, 131 W. 55th St., NYC. Oct. 29–Nov. 1. Thu.–Sat., 8 p.m.; Sun., 3 p.m. (212) 581-1212 or www.nycitycenter.org.